So it is no secret I am a handbag lovin' lady right? The only problem is I was starting to feel a bit guilty about it, but Maggie Bags has me inspired to collect now! My latest addition is the Cicily Tote in black (oh so chic!) and I am loving everything about it!
I have found that since becoming a mom again with Tates I tend to carry a larger handbag, one that can carry not only my things but the boys (even hubs!) stuff too. Although I do enjoy a nice roomy bag sometimes I just want to have a smaller ME bag ya know? The Cicily Tote is perfect for this and black is the perfect color, it goes with everything!
Available in several fun and funky colors (including lime, orange and dark red) I chose black with the hopes of is dressing up my everyday jeans and sweatshirts but also in hopes of it being my little black date night bag. I'm really trying to make sure hubs and myself have an evening out each month and when my new Cicily tote arrived I knew I made the perfect choice for myself.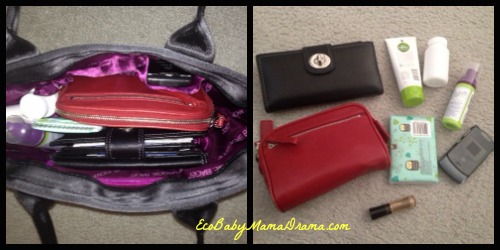 It really is perfectly sized (12″ L  x 5″ W  x 7″ H) for fitting my regular (large) wallet, and my must have while on the go things. I got my date night recently and was elated to have my Cicily at my side. The gorgeous signature purple satin Maggie Bags lining along with the inner pockets make it a great medium sized tote for any woman. The zippered pocket keeps mom's secrets safe and the double handles are great for wrist/arm carrying as well as over the shoulder.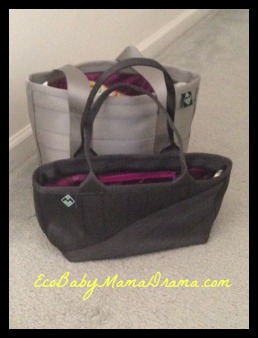 Made of durable seat belt webbing that is rejected by automakers each year, repurposed and saved from landfills every Maggie Bag has a limited lifetime warranty and is machine washable! how many of your handbags can you say that about? Now you know you need one of these and I'm excited to tell you they are available in several sizes for whatever mood or occasion you encounter! I love the Campus Tote I have, and the Key Chain is a must have, which of the other wonderful bags would you love to own?
Enter to win a black Cicily Tote just like the one I have now while you can during the Handbag Heaven Event!
Can't wait to see if you win? Discount Code: EcoBabyMama gives you 15% off Maggie Bags Premier Line until March 4, 2013!