I am a huge advocate of the ever so important R's, Reduce, Reuse and Recycle (of course!) so when I discovered a company that is as passionate about them as I am I was intrigued.  Within minutes of checking out the Maggie Bags website I was addicted!  You see, Maggie Bags is a company that takes rejected seat belt webbing that doesn't meet the auto industry standard and re-purposes them into stylish and functional handbags, wallets, belts and even key chains!

I have shared before that I am a bit of a bag-a-holic….I LOVE bags!  I don't discriminate and like just one specific kind either, I like lots of types including totes, clutches, messengers, and for the baby toting mama in me the over-sized catch all bags too.  No problem, Maggie Bags has them all!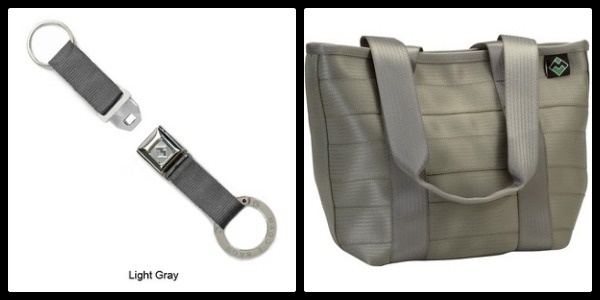 To get my new obsession started the folks at Maggie Bags generously sent me the Campus Tote and the matching Key Chain in light gray for an early mama Christmas present!  The Campus Tote is available is a wide array of colors including solids, fun multi colors as even a seasonal themed fall leaves color way.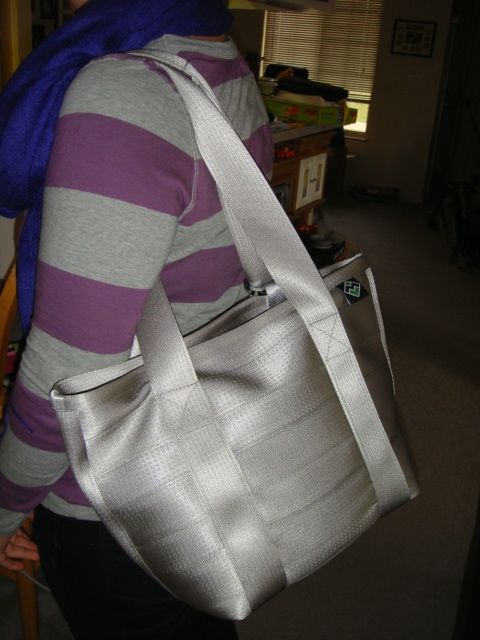 The bag measures 14″ L  x 7″ W  x 11″ H and is perfectly sized for so many things!  As a great tote bag for the college student in your life for toting books and supplies around campus, the larger handbag lover (my mom actually tried to empty mine out and steal it!), or for the mama that seems to get caught needing to carry so many things while on the go with her family (that's me!) this bag truly holds it all and looks fabulous doing so!
The full zip top closure makes sure nothing escapes from you and the great length double handles make it easy to carry even if you stuff it to the brim!
I have carried this bag as my purse since receiving it in the mail (super fast shipping too) and have had someone ask me almost daily about it, it truly is a conversation starter.  I even had a man ask me "is that made of seat belts?" after showing it off he then had me write down the website for him so he could order one for his girlfriend!
The signature Maggie Bags purple satin lining is really too pretty to be hiding inside and adds a gorgeous pop of color and touch of class to this already eye catching bag.  The inside also features a large zippered pocket, cell phone pocket (large enough for an iPhone!), and key pocket which I use for quick grab items like lip balms and glosses. I love the four-nickel plated feet on the bottom which protect your bag from getting dirty if you don't have a place to hang it while out and about.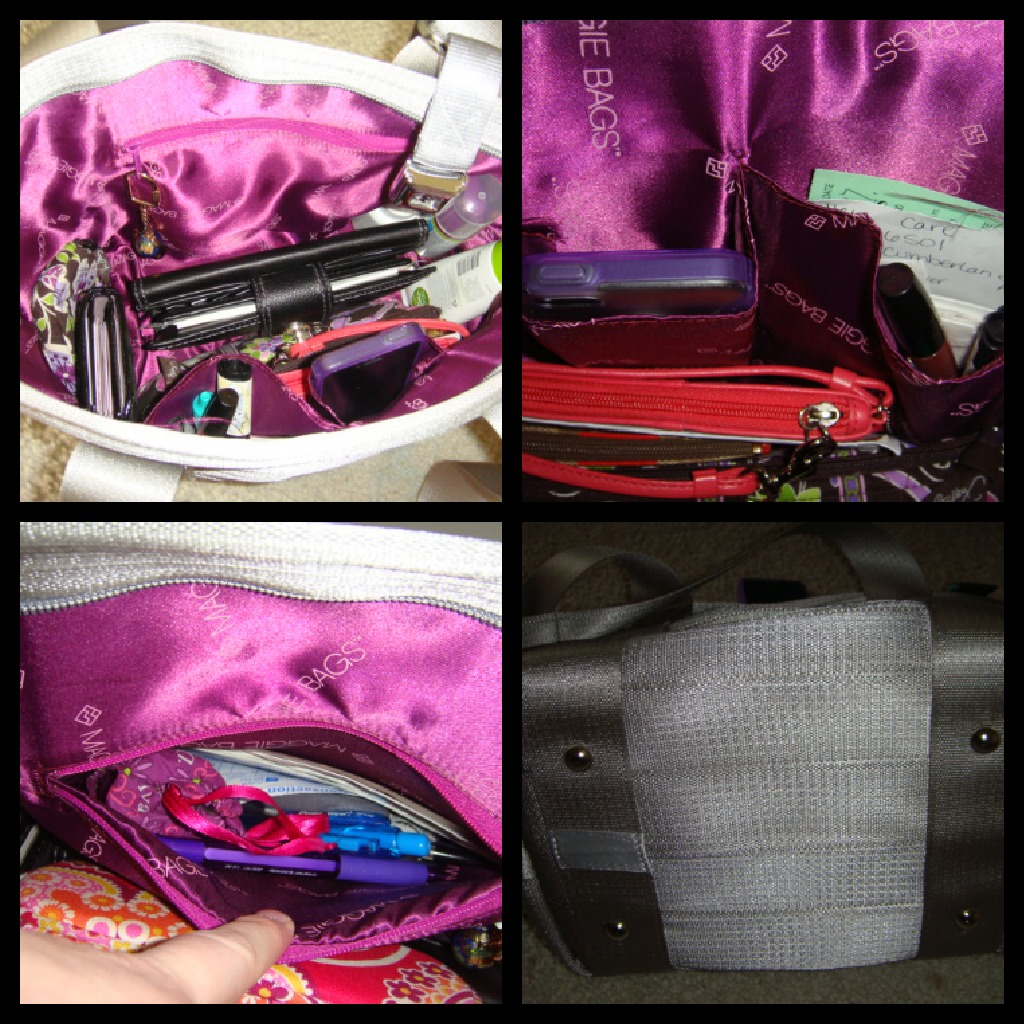 My coordinating key chain is a super fun accessory that makes keeping your keys at arms reach a cinch and it is simply adorable too!  The perfect length (3″ L  x 1″ H at the mini seat belt buckle) key chain system attaches to your bag with a strong yet polished sophisticated looking carabiner style clip embossed with Maggie Bags on one end and a key ring on the other end.  It is great that I never have to go fishing around my purse for keys anymore!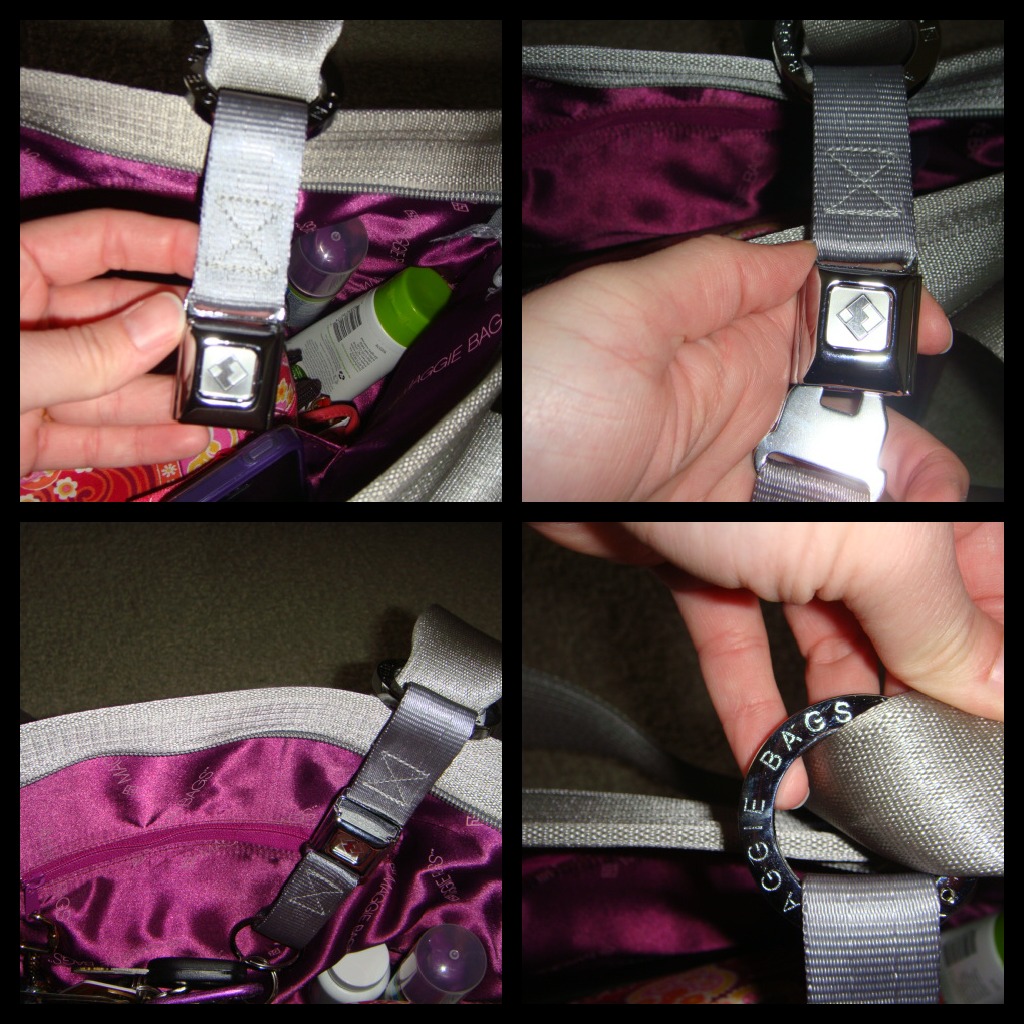 Available in classic solid colors (black, light gray, dark red and fossil) making it the perfect accessory for each person in your family to have no matter what type of bag they are carrying!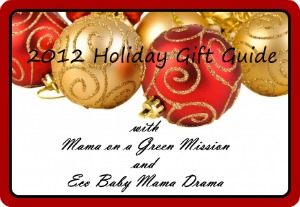 I am teaming up with April from Mama on a Green Mission to bring you our 2012 Holiday Gift Guide!  Make sure you check out the various pages in the menu bar and get a sneak peek of some of the wonderful items that we will be sharing with you that can make perfect gifts for the moms, dads, teens and young ones in your life!
The Campus Tote and Key Chain make an awesome gift for the special lady in your life (or for yourself girls!) and it is eco-friendly making it even more perfect in my opinion!
You can purchase this amazing tote bag and key chain directly from the MAggie Bags website and make sure you take advantage of the special Discount Code for Eco Baby Mama Drama readers!! EcoMamaDrama gives you 25% off Maggie Bags Premier Line until Dec. 31, 2012!  I know there are several items from this line on my Christmas wish list what about you?  Tell me, which color Campus Tote is your favorite?