Summer is still in full swing, and if you still have lots of dates with the pool or the beach, you may still be looking for the perfect beach bag. I think I may have found it! Maggie Bags has really outdone themselves with their newest seatbelt purse, it's definitely my must have summer accessory!

The Bailey Bag is made from seatbelt straps, and is a great bag for concerts, amusement parks, or even the beach. They come in a wide array of colors including some fabulously bright colors perfect for summer! The Bailey Bag has lots of zippered pockets to keep your stuff well organized. You can wear it on your shoulder or across your body, whichever you are more comfortable with. I really love how the strap is made to lay flat, no bunching!

I think this bag would also make a great first bag for little ones as well, because my nieces keep trying to steal mine!  The colors are very vibrant and don't fade (didn't I already mention they are perfect for spring and summer?), and people notice my bag everywhere I go. I'm seriously in love with the Maritime Combo, the colors just pop!

It really is compact, and it's perfect for holding all of my essentials when I don't want to carry a huge bag everywhere in addition to my diaper bag. I love to wear this bag across my body so that I can be completely hands free, and being that it's made from seat belt straps, I know that it can hold whatever I need to put into it ;).

Both sides of this bag have great zippered pockets at different heights that can hold my lip gloss, ID, or gum for easy access, while the signature Maggie Bags rich purple satin interior offers a touch of luxury and class. The inside also has a zippered pocket, as well as two open pockets to hold your cell phone and keys to keep them easily at your touch.
In my opinion, this bag is great for vacations, summer trips, and any on the go plans you have planned!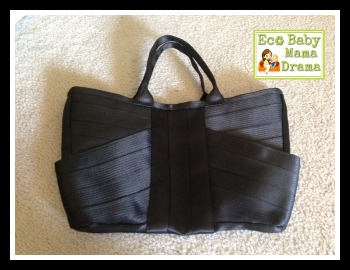 I absolutely adore my collection which includes the Butterfly Bag, Cicily Tote, Campus Tote, and of course my must have Maggie Bags Key Chain! Do you own a Maggie Bags bag? Do you love yours as much as I love all mine? Which bag is on your wish list?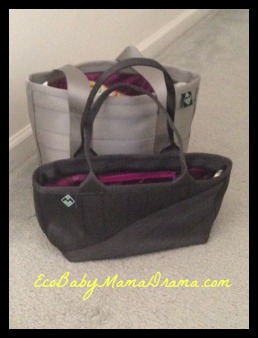 Maggie Bags is generously giving away one of their all new Bailey Bags to one lucky Eco Baby Mama Drama reader! Enter below, good luck! ~WINNER~ Kelly T