If you have been around Eco Baby Mama Drama for long you know that this mama is a huge purse fan! I cannot get enough of stylish bags to accent my wardrobe and I have come across a company that has made this addiction so easy, not to mention fun! Miche bags are incredibly stylish and such a unique idea and I am thrilled for this chance to tell you all about them! Are you ready to get addicted? Come along for the journey!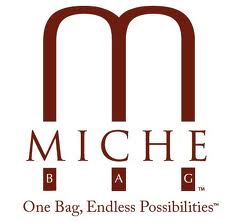 Miche Bags were developed because of a spill on a handbag! Yes, that's right! How many times have you spilled something on your purse and had to change the entire contents to a new purse? That's a lot of work, isn't it? This busy young homemaker decided she would create the answer to her (and our) problem and she came up with the brilliant idea of Miche Bags, which has been the answer for busy women everywhere!. You see, Miche Bags are base bags with changeable shells! There are various styles so that everyone can find the shape and size of bag they want and each bag has numerous shells to choose from! You can just buy new shells for a quick change instead of buying a whole new purse and changing the contents over!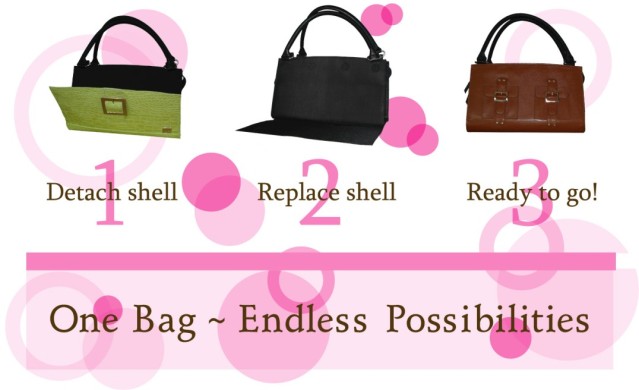 I was sent the Prima Base Bag for review. This is the largest of their bags and measures 5" wide, 15" long and 12" tall. The interior has the perfect pockets: two small open pockets, one medium open pocket, one zippered pocket and even a slot for credit cards and pens! I didn't realize how large this bag really is until I got it! It's the perfect bag for taking your stuff AND your toddler's items! You won't need a separate diaper bag when you have the Miche Prima bag! Tates loves taking some toys when we go out and about and my Prima bag is the perfect place to store them along with a cloth diaper, wet bag, wipes, an extra outfit and of course mama's wallet, makeup, checkbook, cell phone and keys! Even with all of those items there is STILL room for more! I love all of the space that the Prima bag gives!
The best thing about Miche Bags? The interchangeable shells! I love that I can change the look of my purse in just minutes! The shell easily attaches to the base bag and hidden magnets keep it in place! No one can even tell it's a shell that can be changed! In fact, the mothers in Tate's play group were amazed when I took the shell off to show them how this bag functioned! The shells I received from Miche to conduct my review were these: Rosalyn, Leah and Kali. Wait til you hear about them!
The Rosalyn was my favorite! It is a gorgeous purple color and has a very cool texture! Coming in a close second is the Leah bag. This bag is known as the bag that has the perfect mixture of "naughty and nice" and can easily transition from season to season! I love that about this shell! Finally, the Kali shell is gorgeous as well and has exterior zippers on the vibrant turquoise shade. It has a marble-textured faux leather appearance and this shell has two amazing zipper accents on the front that allow for quick access to keys, cell phone and chapstick! Not only does the zipper look great but it has amazing functionality!
Now that you've heard all about the base bag and shells you are probably wondering just how easy it is to change them. Well, I've got great news for you! They literally take minutes to change for a new look! The shells are all easy to wipe clean, easy to change and have amazing style! I couldn't be more in love! In fact, I am going to be ordering some of their accessories including the longer strap to use this as a diaper bag for those times we need separate bags or I just want to be super stylin' by carrying two bags, using the diaper bag as my excuse to do so!
Buy your own awesome Miche Bags and a shell for each outfit directly from the Miche website!  New shells are released each month!