Ah fluff, so natural and good for not only baby but the Earth too.  With so many options out there everyone can find something they like to use and even have options that include a 'daddy friendly' stash.  This week I want to share with you what features I love most when it comes to fluff….
SNAPS - Tates can undo velcro/hook & loop so it doesn't work in this house!
Natural fibers - cotton, hemp & bamboo are my preferred materials
Sized vs One Sized - I used to say One Sized but with a growing toddler not interested in the potty I am finding the sized love
Wet Bags -  we started with a pail liner and didn't love how it worked for us so we are definite wet bag users
Solids & prints - I love an adorable print but have lots of solid colors too
Types - we mainly use pockets however I have a few favorite AIO's and love fitteds/wool for overnight and naps
Inner lining - first choice (after natural fibers) is micro fleece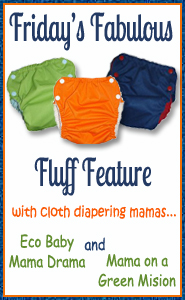 Make sure you head over and read about what Mama on a Green Mission loves! Please share, what are your fluffy favorite preferences for cloth diapering? Do you have anything you have tried that you love or want to try?