Cloth diapers are more cost effective as well as a more natural option for babies and the environment, but they are also way cute too! This week's Friday's Fabulous Fluff Feature is all about the cute factor and fun fluff prints!
Mama on a Green Mission and myself are sharing our favorite prints and the guidelines we have set for ourselves are to list the top 10……let's see if I can keep it to just 10, um yea I already know I can't! So cut this fluff addict a bit of slack as I share some of our stash favorites, I'm gonna manipulate the rules a bit!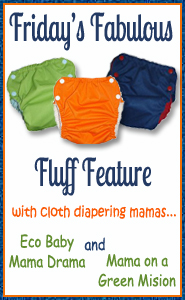 Most of our stash is gender neutral, we have lots of solids in a rainbow of colors excluding black and white…..white is too boring and I haven't seen a plain black that I remember as of yet. Orange is a very popular color here as it is my husband's and T-Bones favorite color, but personally I like a print over a solid any day!
So without further ado here are a few of my favorites in no particular order…
Ooga Booga
My husband and T-Bone call it pacman and Tates just recently started saying 'ooda booda' and laughing so hard when anyone says it to him and saying "do again!" (as he giggles uncontrollably), I do think it is super cute and grab a new ooga print when I can, I have a green one on order actually!
Giraffes
If you follow our stories on a regular basis you probably know that Tates is a HUGE fan of giraffes or as we call them Melman's therefore the prints are definitely a favorite in our home, the only problem is I can't seem to find more!
Dinosaurs
Now these are available in tons of different variaties from adorable to even scary (lol), I just got the one on the left in the mail actually and Tates is going to wear it today for the first time!
Aliens
Out of this world cute and the one on the far right was specially made for us and glows in the dark!
Lions
and tigers and bears oh my! I just got the one on the left (review to come!) and am seriously LOVING it!
Cows
Moooove over all you other prints the cows are coming!
Zoo
Yes my life is sometimes like a zoo so the zoo prints fit the bill!
Elephants
I wish I could share with everyone how adorable Tates impersonation of an elephant, love this print and the orange and blue combo especially!
Monkeys
We need more monkeys prints to go with my monkey butt kids!
Farm
This is one of Tates favorites, he names the animals and makes their sounds whenever he sees it and wants to wear it but he is playing with it making it difficult to get on his tushy!
So that is my top 10 but alas I am not done!  I have to include 2 super cuties that are just plain fun!  Let's call them honorable mention?
So are you a solid lover or a print seeker?  We love animals as you can see above! Make sure you go see what prints Mama on a Green Mission is loving!
WIN!! I know you all love winning fluff and I bet you have some favorites of your own, don't you? Well, April and myself have something super fun and different for you this week! You can comment below with your favorite print/company for a chance to win a fluffy surprise! One print/company in EACH comment with each person having a maximum of FIVE (5) comments. Be sure to include your email in this fashion (ecobabymamadrama at gmail dot com) so we can contact the lucky winner who is selected via Random.org! There will be one winner from each blog so make sure you get your maximum number of entries allowed here and hop on over to Mama on a Green Mission for a chance to win her fluffy surprise! Contest will end Thursday, December 22 2012 at 11:59PM EST and is open to US/Canada. Comments after that time will not be counted as entries. ~WINNER~ Julie

Happy Holidays from Eco Baby Mama Drama and Mama on a Green Mission!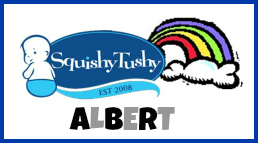 ALBERT
You did it!  You found the bumGenius Rainbow Color on my blog.  Now, go back to the Rafflecopter Form and enter the above color name for my Entry!
Good luck on the giveaway!
While you're here, you might want to check out my wide variety of cloth diaper reviews!