I realized the other day that I am coming up on my on my two year anniversary of using cloth diapers.  Hard to believe it has been two whole years!  I have learned so much and feel like I have come so far.  My two years is nothing compared to one super mom that I recently had the pleasure of working with and am excited to share her expertise with you all.  Coleen the WAHM behind Sweet Little Blessings cloth diaper and accessories has 12 children, 12!  She has been running her cloth business since 2008 and has a vast inventory of brands and styles to choose from, have questions?  Coleen offers personal help with anything you might need to know!

Coleen suggested a size Large Bottombumpers cloth diaper for me to try out with Tates.  I am super excited for a few reasons; the all natural fibers in the diaper, side snap closure and we don't have much experience with sized diapers so this is a new fun experience for us!  We received a pumpkin color (we love orange!), the size large has measurement guidelines as follows: waist 17″-24″, rise of up to 18.5″ and weight of 25+ pounds.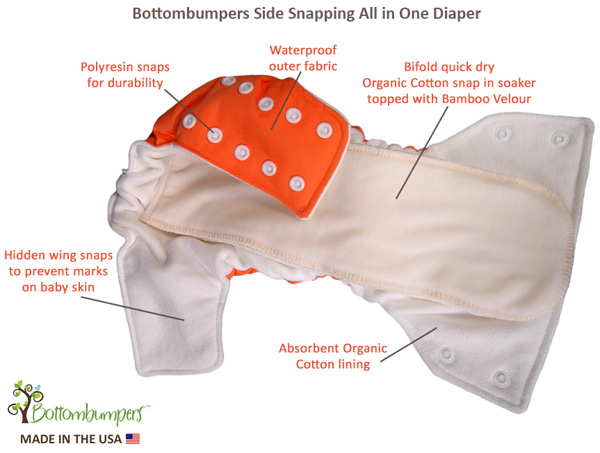 This AIO diaper is super soft and offers a stay day topped snap in soaker consisting of 4 layers of organic cotton topped with bamboo velour, making it more of an AI2 in my mind.  The shell is lined with organic cotton which is nice if there is any overflow from the soaker.  Since the soaker snaps in the diaper does dry much quicker than your typical AIO diaper.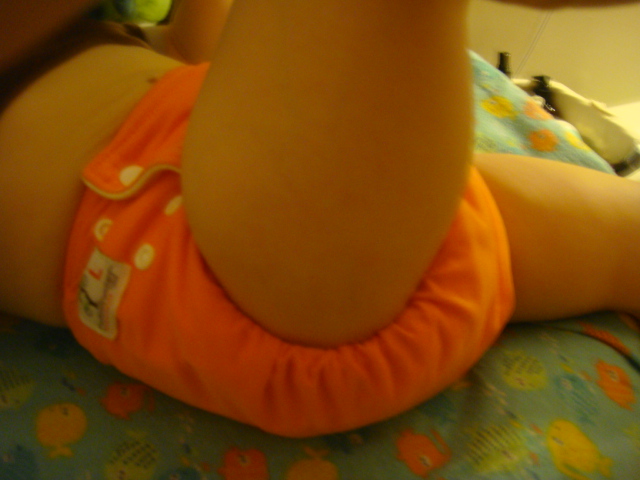 The diaper has very gentle elastics on the legs and back making messes stay put but never making red marks on baby, Tates has some chunky thighs and this diaper wasn't tight on him.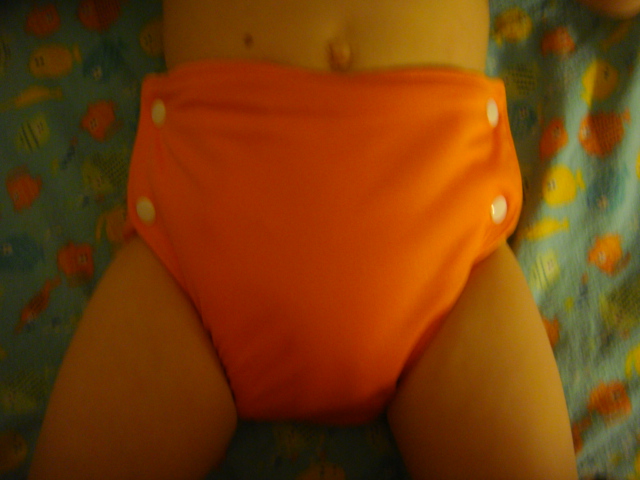 The waist is always flat with the side snap closure, I think I mentioned already I love side snaps!  Last time I weighed Tates he was 30 pounds and there is plenty of room for him to grow in this diaper, he doesn't seem to be too interested in the potty so we might be looking at diapers for awhile longer, the Bottombumpers size large will be put to good use!  You can see there is still lots of room for Tates little belly to grow and the diaper will still fit.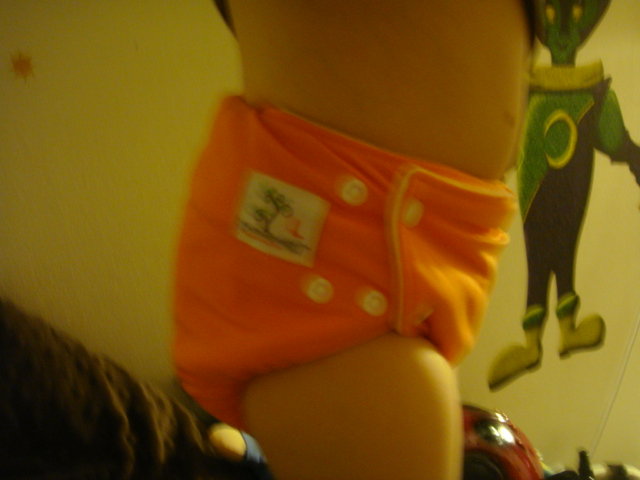 I think you can see from almost all the pictures that this diaper is very trim, I think it will be even more trim as Tates fills out more and becomes bigger!  I absolutely love the new sized diaper Coleen has introduced us to!  Tell me, what do you love most about this diaper?
Buy some!  You can purchase Bottombumpers diapers from Sweet Little Blessings online store, Coleen has so many wonderful colors and prints in stock and ready to ship!!  Make sure you drop by the HUGE Clearance section to check out the awesome deals you can score!
Win!  Coleen is generously sponsoring the Fluffy Butts Cloth Diaper Giveaway Hop right now!  Hurry over and enter to win!