When it comes to fluff I am a natural fiber lovin' mama for sure so when given the opportunity to try out the all natural AIO Simple Huggerz one sized cloth diaper by Koala Huggerz I was super stoked! When I visited the website for the first time I immediately fell in love with the adorable and unique prints which actually made my favorite prints list last week!

This diaper has jumped to the top of my stash favorites list and I grab for it whenever it is clean! I received the Little Lions print with snap closure and already want more, I would love an entire stash of them honestly! I am loving this diaper in every way with the small exception that the dry time is a bit longer than I am used too however considering it is an AIO with a completely encased soaker that is to be expected.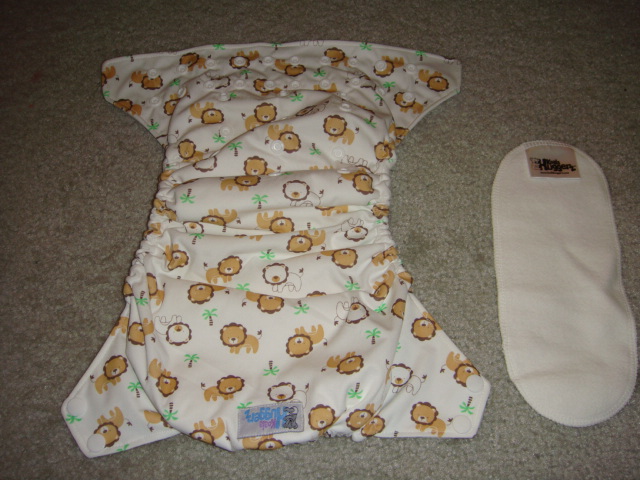 We chose snap closure since Tates can undo velcro however being available in both closure types is a definite plus for lots of cloth diaper families. Crossover snap closure is not a feature but the diaper gets very small when set on it's smallest setting and is comparable in size to the Koala Huggerz Newborn AIO.
A snap down rise with four (4) settings makes this diaper truly a one sized stash must have for quickly growing little ones. Designed to fit babies from 7-35 pounds I can't wait to try it on a newborn and Tates on the other spectrum being a big 30+ pounder definitely has plenty of room still left to grow into the largest settings.
Adorable prints, one sized and closure options on the outside but what about the inside you ask? The lining is super soft microfleece (my favorite!) offering a comfortable dry feeling against babies delicate skin and the bamboo sewn in soaker is super thirsty.  I prep washed the diaper four times before using it for the first time (nowhere near full absorbency) and within a minute of putting it on Tates he told me he had  gone potty.  We were in his room still at the changing table actually (I hadn't even gotten his pants back on yet!) so I took the diaper off and I could see he indeed had wet and the diaper had soaked up almost all of it. Impressive especially not to full absorbency yet!
Being an AIO and pretty absorbent Koala Huggerz decided to give every diaper a little extra booster by including an organic cotton doubler that you can position wherever your little one needs it and making the diaper a great nap/night diaper solution.
The diaper is very trim too, it is super easy to fit under all of Tates clothes and doesn't slow him down at all. Some diapers we have used can make him walk funny if they are stuffed and ready for extended wear (nap/night) however this trim favorite isn't one of them 😉
Last but definitely not least the elastics on this diaper are some of the most stretchy and softest I have come across to date. They really do hug babies curves and never leave red marks however they also hold up when the diaper is fully loaded!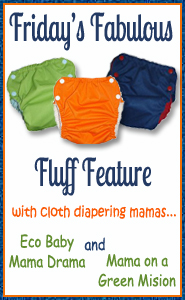 Koala Huggerz is this weeks Friday's Fabulous Fluff Feature here at Eco Baby Mama Drama, keep an eye out for more upcoming features with Koala Huggerz!
Purchase: You can purchase your Koala Huggerz directly from their website, there is an awesome sale right now and a fully stocked selection to choose from!
Win: Koala Huggerz is generously giving one lucky Eco Baby Mama Drama reader their own OS AIO in either Pink Bunnies or Dalmatian print! You get to choose closure style!  Enter below, Good Luck!