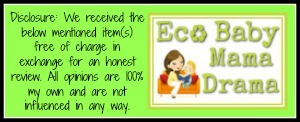 Whether you are new to cloth diapers or a seasoned veteran, you probably have had some experience with prefold style cloth diapers even if you don't realize it. I used prefolds as burp rags with T-Bones and Tates before we actually cloth diapered and now like them for their intended purpose ;). Real Nappies offers prefold style cloth diapers and reusable covers that are easy to use, an all natural fiber option and easy to launder making them a great and affordable option for families.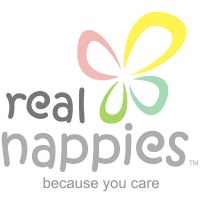 We were sent a Real Nappies Cloth Diapers Top-Up Pack to use on Tates, each Pack contains the following:
6 Real Nappies prefold cloth diapers (several sizes available, newborn to 40lbs!)
2 Snug Wrap white diaper covers (velcro closure only)
1  helpful User Guide (a great reference tool!)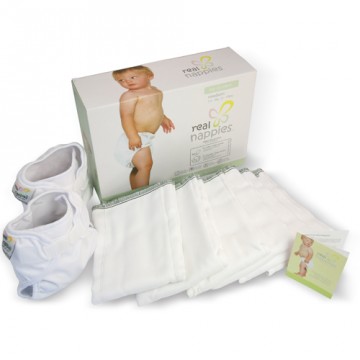 Made from 100% premium indian cotton Real Nappies prefolds are super soft and very absorbent, with each wash they really do get softer and fluffier. Each prefold is customizable to your babies needs with the endless folding options and since they are a large flat piece of cotton they dry very quickly.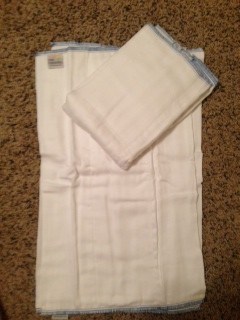 The included waterproof covers are velcro closure and offer crossover tabs on both sides (as well as laundry tabs) to really give your baby a great fit. I really like the front panel on the covers, perfect for tucking the prefolds into when trifolding and keeping them in place. You can see how wide the panel is (as long as a Boingo) and how easily you can tuck in your prefolds. Not a fan of pins, snappis or boingos no problem, these covers offer such a great fit you don't need to have anything to keep the prefolds where you put them.

Although the fit of  the Real Nappies when trifolded isn't super trim it does offer several layer of absorption. This is a great step towards using the big boy potty for us too since the cotton let's Tates know when he is wet.

For a more trim fit I use the angel wing fold and Boingos which can be tricky with an impatient however the benefits make it worth it. Natural fibers, easy laundering and long lasting affordable cloth diapers make Real Nappies a must have in every cloth diaper stash!
Need another reason to give Real Nappies a try? Real Nappies are backed by a unique warranty that extends across two children and applies to diapers and covers! Awesome right?!

Want another view on Real Nappies? Make sure you head on over to see what Julie from A Year with Mom & Dad thinks and how they fit her kiddos!
Do you use prefold cloth diapers? What is your favorite fold? Any prefold tips or tricks you have I would love to hear!
In leiu of a giveaway Real Nappies donated a 6 pack of their prefolds to a local women's shelter to help families in need.