This month, Earth's Best introduced new Organic Veggie Purees! These tasty purees offer a healthy meal for your baby, rich in Vitamin A, E, C and Zinc. The new Veggie Purees are available in four delicious flavors including Sweet Potato & Beets, Carrots & Broccoli, Pumpkin & Spinach and Squash & Sweet Peas.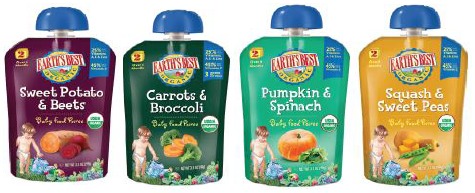 Adding to Earth's Best current line of pouch products including Fruit & Grain purees and Fruit & Yogurt smoothie pouches for infants and toddlers, these purees are the first all-vegetable offering from Earth's Best! Easy to store and even easier to carry, this little pouch offers a big, flavorful punch of healthy nutrients and minerals to help your baby grow.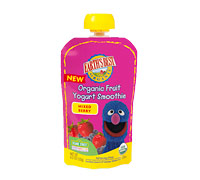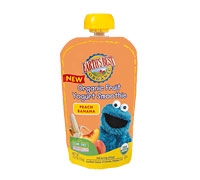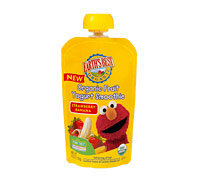 The new Veggie Purees can be served as a wholesome meals for babies 6 months or older and as a snack for toddlers. Even more exciting, Earth's Best Organic Veggie Purees come in non-BPA packaging.
Some interesting Info:
Parents who eat more fruits and vegetables often have kids who a) are less picky and b) consume more fruits and vegetables.
Don't pressure kids to eat. Studies show that parents who pressure their kids to eat actually get kids with higher levels of pickiness and kids who eat significantly fewer servings of fruits and vegetables.
More tips can be found here on the Earth's Best website!
Win: One Lucky reader is going to win a Sampler Pack of Earth's Best's new Veggie Purees!
~WINNER~ Neva H