As my older son heads off to school each morning I slowly start to realize summer is over 🙁  My husband works for our school district (year round schedule) so I am always kind of up to date on what is happening and the latest in our neck of the woods is an increase in school hot lunch prices.  This really gave me the extra nudge to start sending lunch from home and not just because of the cost factor.  I want to offer my kids the best food at all times and thanks to Earth's Best I can.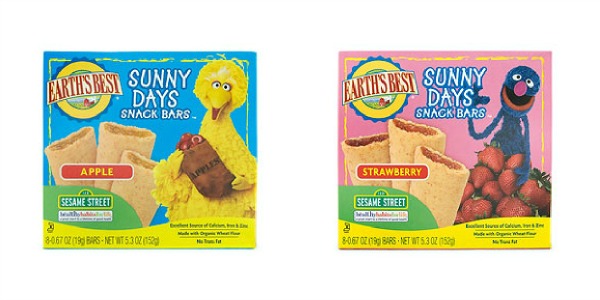 Earth's Best has a wide variety of products for your growing children that are delicious, nutritious and are also the perfect size to pop in a lunch box (or mom's purse and always in the diaper bag too)! Earth's Best Sunny Day Snack Bars are naturally sweetened cereal bars filled with real fruit, they are perfect no matter what age your kids are.  Sunny Day Snack Bars come in two delicious flavors, strawberry and apple and are individually wrapped, making them perfect for on-the-go kids….no more excuses for eating unhealthy because you are in a hurry!  Tates is a huge fan of the apple, honestly….he wanted to eat the entire box right when we got them and I have had to go to the store several times now to keep buying them!  Sunny Day Snack Bars are also excellent sources of calcium, iron, zinc and contain six B vitamins.
Other back to school lunch tips include:
When it comes to feeding children, finding a balance is very important. Adding different fruits like grapes, strawberries, blueberries and melons in a fruit salad to your child's lunch is a great idea as bite size pieces are easier to chew and it may even look more visually appealing to your child. **You can add a bit of lemon juice to keep fruits fresher longer
Avoid sugary soft drinks. Include low-fat milk, water or 100% juice drinks like Earth's Best juice boxes.
Sending along carrot sticks? Put a little bit of veggie dip in a container as a fun addition on the side.
Make it a healthy habit to go to the store at least once a week to stock up on necessary lunch items. Having a variety of items on hand will make the early morning planning process much easier.
Instead of packing chips and cookies, try including whole wheat pretzels or crackers.
Let your child feel like they are in control by offering them two healthy snack items to choose from. This gives them a choice while parents still maintain ultimate control.