Anyone that does any amount of exercising will tell you that comfort and support are very important when it comes to workout clothing.  For this eco-conscious mama I also would love some clothing that is eco-friendly too and with Soybu I am covered and loving it too!

The folks at Soybu generously sent me 3 items for my workout sessions, I received the Arabesque Crop (black), Balance Tunic Cami (Oasis), and Ebb & Flow cover up (black).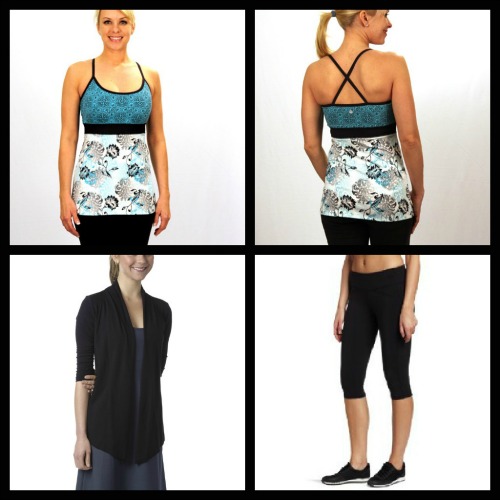 My first thoughts were how pretty the designs on the cami are and how fun the vibrant colors are.  I also notice how soft and stretchy everything feels, I can't wait to try them out!
I am in training to overhaul my body and get back to pre-baby weight (pre-baby weight from my 14 year old, not the 2 year old!) so I am all over the place trying new fitness videos, running, weight training, using machinery and pretty much any challenge that comes my way.  My point here is I am moving and sweating and with these clothes I am comfortable no matter what I do.
The Arabesque Crop hits right below my knees and is made of Power Flex fabric perfect for pretty much anything my workout (and yours!) will throw at them.  They hug your body perfectly without pinching at all offering great stretchy support as well as comfy a contoured waistband and moisture wicking all around.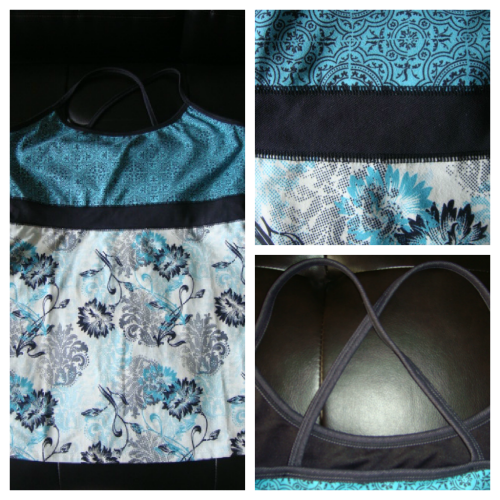 The Balance Tunic Cami offers a super supportive shelf bra even during a vigorous run there is no need to wear a separate sports bra.  The cross cross straps make sure you don't worry about them sliding off and are stylish too!  Also moisture wicking like the Crop, the Cami is flattering with the solid empire waistband and longer length to make sure you are covered even when your body is stretched to the max.
Before and after working out or even just for fashion fun the Ebb & Flow cover up is definitely one of my favorite pieces of clothing.  Honestly I wear it out on chilly nights and plan on using it for the upcoming chilly days too.  It is wrinkle resistant which is perfect for me because if I am not ready to wear it I can toss it in the diaper bag for later and have no worries about looking wrinkly.  The mandarin collar and ruching at the elbow length cuff make this feminine cover up my must have in more colors for Christmas!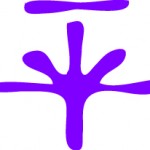 Just when you think these clothes are super awesome things get even better!  Check out these spectacular eco facts about Soybu's business practices and their clothing:
*All of our recycled polyester comes from post-consumer recycled bottles (meaning, the factories don't buy bottles just to recycle them, they have been actually used and recycled). By using recycled bottles, we keep them out of landfills and keep supporting the recycling process.
*Based on an individual sized water bottle, we save about 20 water bottles from a landfill on a pair of pants and 12 on a tank.
*The amount of energy it takes to turn bottles into polyester is significantly less than turning oil into polyester.
*We blend our fabrics strategically so we keep the eco-friendliness of the recycled poly but maintain the garment's performance and durability. And if the clothing is more durable, it lasts longer, and you won't throw them away in landfills as frequently.
*You can also wash recycled poly in cold water and achieve the same cleanliness without the energy.
*And finally, we do not waste any fabrics… everything is used from season to season in creative ways.
Totally awesome right?!  I know! You can't help but LOVE it!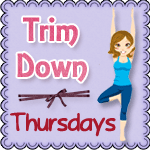 Soybu is this weeks sponsor for Trim Down Thursday!  Head on over to see what Amanda from Coping with Frugality is talking about this week!
Purchase: You can purchase Soybu at a retailer near you or directly from their online store, be careful though you might want to buy everything!
Win Soybu! One SUPER lucky reader is going to win a fabulous prize package from Soybu!  A pants trio is up for grabs, the one pictured below,  the Allegro Legging, Lotus Capri, and Lotus Pant (in granite heathered color - my favorite color!).  Good Luck!

Loading Entry-Form…
…