When it comes to eco-friendly products it's safe to say I get super excited. I am noticing though that lots of pretty cool looking products that are eco-friendly and in general just plain awesome aren't available in the US which is a huge bummer. So how do we American's get these great products? Thanks to a lovely lady named Joan it is becoming a bit easier.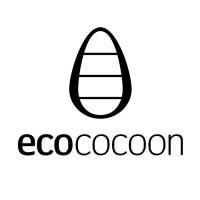 Joan's passion for quality eco-friendly, sustainable products is how her website Little Modern was born. Offering these types of goods to the US is such a wonderful service and the Ecococoon brand's exciting modern and retro designs make them irresistible! Ecocoon is the first brand that has been added to the Little Modern website and is exclusively available in the US through the website only (if you are a retailer you can contact Joan to carry them in your store ;)).

Joan generously sent us the medium sized Insulated Bottle in the Sausage Dog print along with the Favorite Things Stainless Steel Cup Set. Hello adorable, they are seriously the cutest things ever!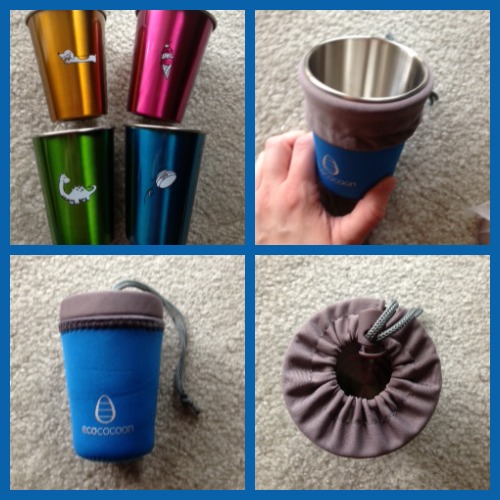 The cup set includes four 18/8 stainless steel cups in these retro modern designs: Football, Sausage Dog, Ice Cream and Dinosaur along with a coordinating topaz blue neoprene sleeve. The sleeve is perfect for storing your cups while on the go and keeps them nice and shiny so you can get lots of use out of them.
Each cup holds 11.8 ounces and care is easy: hand wash (recommended) to protect the eco-friendly, lead-free paint. Cups are BPA-free and recyclable too!

So what does Mr. Tates think? He LOVES them! He requests them by name, "I want big boy ice cream cup pease"! It's a great feeling knowing I can give him adorable and safe big boy tools (although I honestly don't want him to grow up)!
The sausage dogs insulated bottle is my favorite, I mean it is seriously adorable and Tates really loves it too. It is easy to use (even for a toddler) and like the cups is BPA-free, recyclable and 18/8 Stainless Steel. The bottle however (unlike the cups) is double walled allowing for contents to stay chilled for up to 24 hours and no condensation!

The bottle has a 16.9 oz or 500ml capacity and comes with a leak proof cocoon cap that has a cool a neat lid that keeps the mouthpiece covered when not is use. I hand wash with the cups and air dry.

Whether on the go or at home if you prefer a bottle or cups Ecococoon and Little Modern have you covered, the hard part is choosing which color or print you need….yea you're gonna need more than one ;)!
Joan from Little Modern is helping Eco Baby Mama Drama Honor the Earth and generously giving away an Ecococoon bottle or cup set to one lucky winner! Enter below for your chance to win! Can't wait to see if you win, enjoy an exclusive 15% off coupon on any $20 or more purchase now through 6/15 when you use code summer15! ~WINNER~ L.C.