Welcome back to Trim Down Thursdays!  We took a little break last week but are ready to get back on track with this weeks topic, the Importance of Breakfast!  I am always making T-Bone eat breakfast and harping on my husband to eat breakfast however honestly I rarely eat it myself.  I am not typically hungry when I wake up and end up going several hours before eating, sometimes until late afternoon.  NOT good!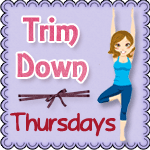 First think about the word Breakfast itself….BREAK-FAST, break the fast that your body has been experiencing (overnight since dinner).  It is important to get something in your stomach to give you fuel to get started for the day.   For adults (especially) it is important to eat breakfast (even a light one if you aren't too hungry like me) because you are less likely to overeat at lunch and dinner thus helping to control your weight.  For kids it is very important to help them with behavior and mood for a long day of learning.  I know T-Bone is definitely effected by a missed breakfast and I have gotten the phone calls from school to prove it!


Breakfast is the first opportunity for your body to refuel it's blood sugar levels which are essential for brain function and your main energy source helping your muscles be prepared for physical activities throughout the day.  Plus if you are like my husband and end up working through lunch several times a week you don't want to be skipping breakfast and lunch, your body will starve!


So here are some ideas to help you get motivated to jump on the Breakfast Bandwagon:
Keep quick (but healthy) breakfast foods on hand (yogurts/fiber bars/fruits/trail mix)

Prepare breakfast ahead of time (pre-cut fruit the night before/tuck a breakfast bar in your purse)

Think outside the cereal box (fruit smoothies/leftovers/oatmeal/bagels)

Reward breakfast eaters (Saturday homemade pancakes or muffins are always a treat here!)
What is your breakfast routine?  How do you stay motivated to eat breakfast, how do you motivate your kids/spouse?  Please drop by Coping with Frugality to see what Amanda's breakfast thoughts are and if you have blogged about your thoughts either on breakfast or health in general please link up!