When you are purchasing things for your little one you are always considering the best choice for them.  With the amount of time they spend sleeping getting the best mattress available is high on my Must Have's list.  You definitely want to get something that is high quality as well as safe for your child.  I am excited to share with you the new Lullaby Earth crib mattresses. It is the first ever recyclable crib mattress design ever developed!
Designed by parents, grandparents and engineers as a result of years of research - with health, safety and affordability being top priorities.  Unlike competing products in its price range, the Lullaby Earth baby crib mattress is completely free of polyurethane foam (including soybean foam blends), vinyl/PVC, PFC and antibacterial treated fabrics, as well as questionable fire retardants and known allergens.
Available in either the Super Lightweight Crib Mattress and Super Lightweight Crib Mattress – 2 stage, which is what we received to try out.  The 2-Stage Lullaby Earth crib mattress features a firm, flat surface on the infant side (as recommended by pediatricians and the Consumer Product Safety Commission), and a softer sleep surface on the other side for growing toddlers. Strong edge and side support adds structural stability and makes the Lullaby Earth mattress an excellent choice for toddler beds and Tates!
The Lullaby Earth crib mattress is designed to fit snugly in your baby's crib, conforming to ASTM standards for crib mattress dimensions. For safety, you should be able to fit no more than two fingers between the mattress and the crib. Square corners help eliminate any gaps within the corners for a safer, tighter fit.  this is definitely a top notch choice for your precious little ones!  And it is made right here in the USA!
Want to know why it is called Super Lightweight?  Is only weights 7 pounds, making it super easy to change without having to make it a tough job.  I know when Tates was a newborn it seemed like we were changing his sheets a few times a day (although the early days blurred together lol) and it was such a pain with a heavy mattress, this mattress makes changes super easy.  I also love that this mattress is completely waterproof (even on the edges where most crib mattresses have seams), this means you don't need a separate mattress protector sheet saving you money!  Check out the short informational video.
Buy it:
You can purchase your very own Lullaby Earth Super Lightweight Crib Mattresses at a
retailer near you
.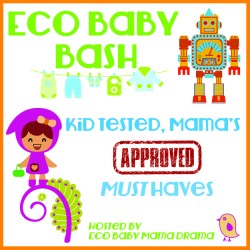 Lullaby Earth is another one of the super generous sponsors for Eco Baby Bash that is offering a giveaway!  One lucky winner is going to have one of these wonderful mattresses for their little one!
Javascript must be enabled to enter this giveaway.

Loading Entry-Form