When Eco Baby Bash began I had plans to share some wonderful Must Have baby items that I have come across in my journeys as a second time mom but what I didn't plan was getting into a car accident and having my world flipped upside down.  Thankfully nobody in our family was seriously injured and by the grace of GOD Tates wasn't in the car.  The other driver bashed in the side of our car right on the door where his car seat was and knocked his old seat completely loose (it was installed by a certified professional properly and snug).  Needless to say, my blogging schedule was put on the back burner as I tried to piece things together and get back to 'normal'.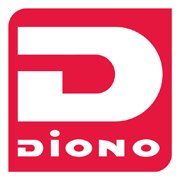 Knowing how important car seats are my research began for the safest car seat available and with all the information in hand I chose a Diono RadianRXT. With all Diono brand seats exceeding federal crash standards the company is an obvious industry leader and sets high standards with their development of side impact protection and passing NCAP test standard (which is not required for car seats). When a company goes above and beyond for children's safety that speaks volumes.
The American Academy of Pediatrics (AAP) now recommends rear-facing to age 2 or until children reach the "highest weight or height allowed" by their convertible car seat. The RadianRXT can comfortably accommodate your child as a rear-facing car seat from 5-45 lbs which is fabulous in my opinion.  Tates is currently 2 1/2 years old and weighs about 30 pounds and we plan to have him rear-facing until he reaches 45 pounds.
One fabulous feature of this great car seat is that it also allows for forward facing forward-facing children up to 80 lbs in 5-point harness, then converts to a booster for children up to 120 pounds, this truly is the only car seat you will ever need.  I was sent the Storm colored RadianRXT for review and the timing was absolutely perfect in helping us decide on our replacement car seat from the accident.
Want to know what we trust for our baby boy?  The seat is built for strength and safety with a steel alloy frame, reinforced sidewalls, adjustable head support and Diono's patented SafeStop® energy absorbing harness. I am going to be honest, the steel alloy frame makes this seat HEAVY however I really feel that my baby is safe for this same reason and I love that you can easily fold the seat for easy carrying if needed.
EPS foam surrounds your child's head and body to provide complete side impact protection.  The RadianRXT sits low on a vehicle seat for easy child boarding (Tates loves being able to climb in like a big boy), features memory foam padding (hello comfort!) and removable infant support pillows (perfect for newborns and little ones). Expandable sides and a longer seat bottom provide extra room and comfort for your growing child.  The seat comes with one cup holder however it accommodates up to 4 which is great for giving your child their own area in the car for their things.
I don't know about you guys but car seat installation is something I dread.  Whether you are just installing your new seat or having to move your car seat from vehicle to vehicle it is a task that isn't fun.  I am always worried about getting the seat properly installed, is the seat secured tight enough and the angle of the seat and how if affects the rest of the car, anyone else?  Installing the RadianRXT is simple, SIMPLE I tell you!  I installed it just yesterday in a car in under 5 minutes and that was from start to finish, Tates strapped in and driving away!  The car seat Angle Adjuster is a useful tool if you are worried about your car seat fitting well in your vehicle and not causing the front seats to be cramped.  It is compatible with the LATCH system and adds up to 4″ of space for rear-facing Radian car seats.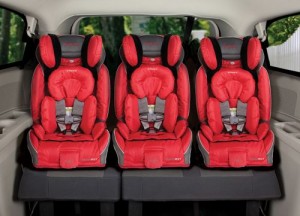 We only have Tates in a car seat now however we do want to possibly have another little one and with the Diono RadianRXT we should have no issues adding another seat to our car, in fact you should be able to fit 3 across in a mid-sized vehicle.  We currently lease a crossover type vehicle and my husband has an older model sedan and there is plenty of room for an additional seat (we tested this theory with the 2 RadianRXT's we own).
You read that correct, we have TWO RadianRXT's because we chose to buy one after we used the one for review, we really do LOVE this seat.  My husband used to never like putting Tates in the car and now he doesn't think twice about it and has mentioned on several occasions that he loves our new RadianRXT seats and I never get tired of hearing it 🙂
Diono also offers some wonderful car seat accessories (besides the angle adjuster!) including the Dry Seat which helps protect your seat from accidents (sippy cup spills or diaper leaks maybe?) and the Grip It which is designed to help keep your seat protected and car seat in place.  We already purchased the Dry Seat for both our RadianRXT's and are going to get the Grip It for each car too.
Make sure you stay connected with Diono online through Facebook and Twitter for their latest promotions and product releases!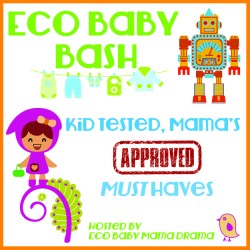 Which one is your favorite?