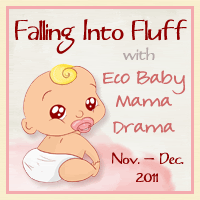 Becca the work at home mom behind the Slightly Crunchy Mommy Etsy shop has some wonderful wonderful handmade goodies to help you get started with using cloth wipes and several reasons to keep you as a customer!



We were sent a wonderful starter sample kit for our event which included 25 of the regular size (6″) flannel wipes and 5 of the large (8″) size flannel wipes along with a 4 ounce bottle of Tiny Glutes wipe solution concentrate and an 8 ounce plastic bottle for dispensing the Tiny Glutes solution once it isn't concentrated.
Each wipe is a single layer of soft flannel with a rounded serged edge in a complimentary color thread.  As you can see from our pictures the wipes are very generously sized and come in cute prints and solid colors as well.  There are several prints and solids that Becca has stocked and she is more than happy to work with you on a custom order as well.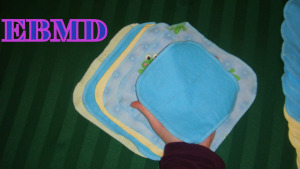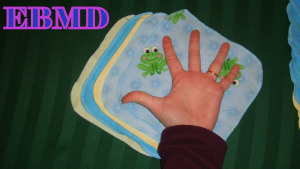 These wipes are super fast to dry and are great for having in the diaper bag because they really don't take up much room.  They are soft for runny noses too!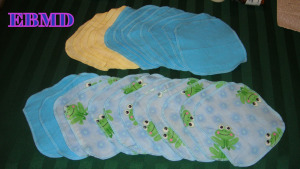 Before Becca sent me the wipes solution and concentrate I had never used a bottle to change diapers only pre-moistened wipes.  I absolutely love having Tiny Glutes Wipe Solution by the changing table for several reasons now.  First of all the solution works great, simply squirt a little bit on babies tush and wipe away the mess!  The ingredients are very safe for baby and make for a great light scent. Secondly if you are not using the solution with a diaper change I can have Tates 'shake! it shake it!' and he is occupied while I work.  Third, the solution goes a long way, the plastic reusable bottle comes with 1 shot of wipes concentrate inside so all you have to do is add water and you have a large bottle ready to go and the 4 ounce concentrate bottle is enough solution to refill your 8 ounce bottle at least 8 times depending on how much water you use.  Concentrate is also available in an 8 ounce container which is enough for 16 water changes.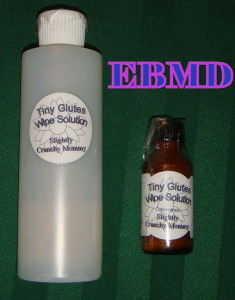 Becca is graciously offering one lucky reader a $25 gift certificate to her Etsy shop so you can get started with a wonderful cloth wipes package or purchase some of her other great creations!  How sweet is that?

/*{literal}<![CDATA[*/ window.RAFLIN = window.RAFLIN || {}; window.RAFLIN['d03e6d58'] = {id: 'MmRlMGQzOTJlODA1NjZkYjhmYmYyZDgyMDgxMTJhOjY1'}; var url='//d12vno17mo87cx.cloudfront.net/static/js/raflcptr/build/raflcptr.min.js', head=(document.getElementsByTagName('head')[0] || document.getElementsByTagName('body')[0]); (function(d,n,h){if(!!d.getElementById(n))return;var j=d.createElement('script');j.id=n;j.type='text/javascript';j.async=true;j.src=url;h.appendChild(j);}(document,'rsoijs',head)); /*]]>{/literal}*/
a Rafflecopter giveaway
&amp;amp;amp;amp;amp;&amp;amp;lt;span class="goog-spellcheck-word" style="background-image: initial; background-attachment: initial; background-origin: initial; background-clip: initial; background-color: yellow; background-position: initial initial; background-repeat: initial initial; "&amp;amp;gt;lt&amp;amp;lt;/span&amp;amp;gt;;a &amp;amp;lt;span class="goog-spellcheck-word" style="background-image: initial; background-attachment: initial; background-origin: initial; background-clip: initial; background-color: yellow; background-position: initial initial; background-repeat: initial initial; "&amp;amp;gt;href&amp;amp;lt;/span&amp;amp;gt;="http://&amp;amp;lt;span class="goog-spellcheck-word" style="background-image: initial; background-attachment: initial; background-origin: initial; background-clip: initial; background-color: yellow; background-position: initial initial; background-repeat: initial initial; "&amp;amp;gt;rafl&amp;amp;lt;/span&amp;amp;gt;.es/enable-&amp;amp;lt;span class="goog-spellcheck-word" style="background-image: initial; background-attachment: initial; background-origin: initial; background-clip: initial; background-color: yellow; background-position: initial initial; background-repeat: initial initial; "&amp;amp;gt;js&amp;amp;lt;/span&amp;amp;gt;"&amp;amp;amp;amp;amp;gt;You need javascript enabled to see this giveaway&amp;amp;amp;amp;amp;&amp;amp;lt;span class="goog-spellcheck-word" style="background-image: initial; background-attachment: initial; background-origin: initial; background-clip: initial; background-color: yellow; background-position: initial initial; background-repeat: initial initial; "&amp;amp;gt;lt&amp;amp;lt;/span&amp;amp;gt;;/a&amp;amp;amp;amp;amp;gt;.

/*{literal}{/literal}*/
a Rafflecopter giveaway
You need javascript enabled to see this giveaway.