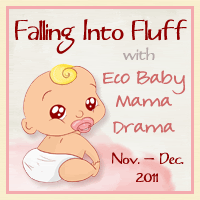 Twin City Diaper Co. is a wonderful shop recently taken over by Amy Tatz allowing her to fulfill her dream of owning a cloth diaper store.  Amy is a huge supporter of USA and WAHM made cloth diapers and cloth diapering products and offers great customer service; it is her number one priority.  Amy offers great personalized assistance with your cloth diaper questions and her experience with raising two children in cloth diapers allows her to speak with confidence from experience. Amy also offers some great customer incentives!

Amy sent me an AppleCheeks cloth diaper cover in size 2, St. Lucia color and a 3-ply bamboo insert for our heavy wetting Tates.  I have been wanting to try these so I was super excited when she told me what I was getting for review!
Although the elastic looks a bit frilly it really isn't at all girly!  The gentle elastic is fabulous (and gender neutral) for containing Tates super juice induced explosions yet leaving no marks on his thunder thighs.  The inner lining of this diaper is a super luxuriously soft micro-fleece with an extremely wide envelope style opening allowing for easy stuffing.  The waterproof outer shell and double row of snap closure allows for a perfect fit, the wide closure tabs are alleviating your concerns about wing droop.
As you can see from above the one sized insert is generously sized (12″x15″) and resembles a prefold.  It is super soft with light green threaded edges and is amazingly absorbent even after only a few washes.  The 3-ply inserts are made of 70% rayon from bamboo and 30% organic cotton fleece and when folded trifold style makes 9 layers of absorbency.  Tates has yet to have a leak of any kind and has napped in his AppleCheeks several times.
The picture above shows how surprisingly trim this diaper is considering it has what is like a prefold as the insert.

Tates is in a size 2 (Size 1 fits from 7 - 20lbs, and Size 2 fits from 18 - 40lbs. All weight ranges are approximate) and as you can see he is close to the last snap setting however AppleCheeks offers waist extenders which I am trying to get my hands on!


My husband is a huge fan of these diapers and doesn't even mention the slightly higher price tag on them, the covers and inserts are sold separately and don't go on sale too often but Amy participates in the AppleCheeks approved sales!
You can purchase your very own AppleCheeks diaper system with either a 3-ply insert or 2-ply insert from  Amy's online store Twin City Diaper Co. today!  Feel free to tell her I sent you so I can earn "Cash for Your Stash" incentives!  We want more AppleCheeks!