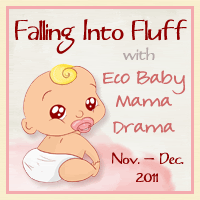 Jamie the Work At Home Mom (wahm) of two hand makes each wonderful item in her online store and boy does she have an awesome selection!  Her storefront is full of ready to ship items in several wonderful prints in various items such as baby leggings, baby blocks (wipes solution), cloth wipes, nursing pads, wet bags and of course cloth diapers!
Jamie sent me the cutest turtles print one sized pocket diaper.  This is one of the most unique diapers I have ever had the pleasure to use on Tates.  With snap closure and snap down rise making this a one sized pocket is very easy.  The super wide pocket opening is located in the front and has a snap to close the opening.  Turned and top stitched detail makes for a smooth edge on babies skin. These super trim pocket diapers have a hidden layer of PUL under the cute cotton knit print and an ultra cool pique lining that is up against babies tush and allows for a stay dry feel.  The legs have PUL to prevent wicking and the elastic is very gentle leaving no red marks on chunky thighs.
The snap closure has two rows for wing droop prevention and also hip snaps and cross-over tabs to ensure a one size fit for every size baby.  With three rise snap setting you can surely have the smallest baby in this cute cloth diaper.  Tates is on the largest setting and is about 27 pounds but has room still to grow in the waist.
Look at that awesome fit!
Look how trim!
Each diaper comes with a super absorbent 4 ply bamboo fleece insert that is very generous in size allowing for customization whether you have a boy or girl.  The diaper and insert are super quick in the laundry (I prefer to hang my shells to dry).
Jamie offers very thorough directions for prep and care of all her products online but doesn't print and send them in an effort to save paper (LOVE IT!).
You can purchase any of Jamie's wonderful creations at her online storefront and with her super affordable prices you can purchase lots!  Her pocket diapers can be purchased for 40% off on Boxing Day (December 26th).  You can preview them now though!