Tates is all about being a big boy lately. He is almost 3 1/2 (where did the time go?) and wants to be like his older brother which means big boy cups without lids. I immediately panic and think about spills and massive amounts of drinks on carpet (yuck!) however with the BabyBjörn Baby's first cup my floors are safe and Tates get's to be BIG 😉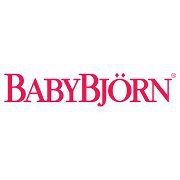 With four bright colors available and the friendly signature  BabyBjörn teddy bear on the body these are a fabulous first cup for any child. Made from food safe plastic the clear portion of the cup allows for children to see the volume of their drinks and the rim is soft on babies lips and gums. The colorful wide base has a rubber strip on the bottom that helps keep is firm on the table and the low center of gravity makes it easy for kids to handle without help. The outer edge of the cup is really cool and allows the cup to slide (instead of tipping over) when little ones push or pull their cup.
The cup holds 3.4 ounces making it perfectly sized for Tates to have enough of his big boy drink without me worrying that there is too much inside *if* a spill does occur. Big boy cup = big smiles here!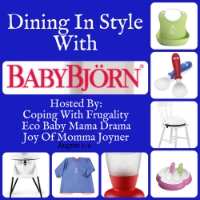 Today is day #2 of the Dining in Style with BabyBjörn event, make sure  you stick around for the rest of the fun reviews this week! At the end of the week we will have 3 fabulous prize packages focusing on each stage of feeding for kids:
Baby Package offers their great High Chair ($299.95 Value)
Toddler Package includes: Smock, Bib 2-pack, 2 Cups, 2 Plate & Spoon Sets ($136 Value)
Preschool Package includes: Booster, Smock, Plate & Spoon Set ($140 Value)
Have you had the pleasure of trying BabyBjörn's cups

 yet? We are looking forward to adding a few more to our collection soon and want them in every color!


Leave a comment HERE, at Coping with Frugality and Joy of Momma Joyner on our Cup reviews and get your "extra entries" done early for the upcoming giveaways!