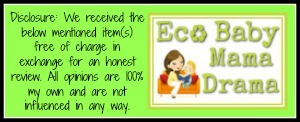 What's the first thing you think of when I say babies and eating? For me it is definitely MESSY. Think about it, when we are getting little ones ready to eat we can sometimes go to extremes. We put down a mat on the floor under them, placemat under their plates, and I've even seen some parents go as far as taking their children's clothing off. My solution? BabyBjörn Soft Bibs for meals and Eat and Play Smocks for all the other messy activities in a kid's life ;).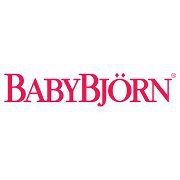 One major issue I have faced with both of my boys is that bibs tend to irritate their necks. They end up spending so much time focusing on pulling on their bibs that they wouldn't be eating and we would both give up and go without a bib meaning lots of ruined clothes :(. With the awesome BabyBjörn Soft Bibs my boys are comfy and their clothing is protected. The soft and completely safe materials are very stretchy, Tates can even take his bib on and off (almost by himself).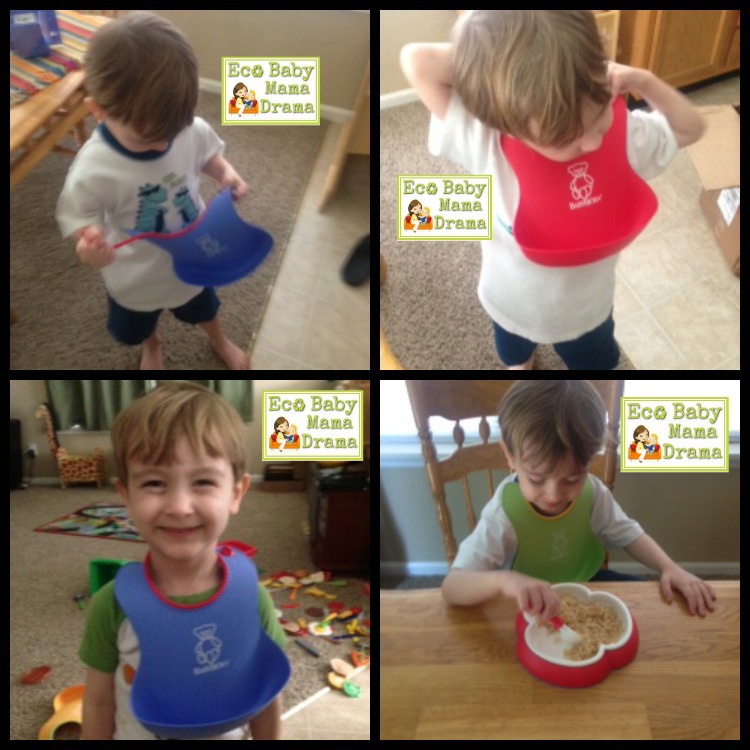 Each bib is easily adjustable with a beaded snap closure that can be used on small children all the way up to adults. Yep I said adults! Recently when we hosted a family get-together my sisters used the bibs

they really are a one size fits all! The bibs are very easy to care for, you can run them under water to rinse them off, wipe them clean or toss them in the dishwasher, easy peasy!Think your kids are super messy eaters and the Soft Bibs won't cut it? No problem, BabyBjörn makes Eat and Play Smocks that are fabulous and have multiple uses. The generously sized smocks are super soft (like your favorite t-shirt) and have snaps in the back that easily adjust to grow with your children. The gentle elasticized wrists of the smocks make it easy for kids to do activities comfortably without getting their arms messy. What about after the fun is done and your smocks look unrecognizable? No worries, you can wipe off the smocks or even toss them in the washing machine if they are super dirty ;). The material is very durable but breathable at the same time and is liquid repellent! We love using them outside while playing with Tates water table, quick on and off so we don't have to slow down and change into bathing suits just play and go to the next activity :).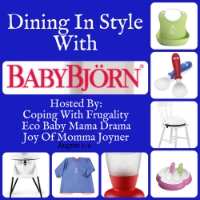 Today is day #4 of the Dining in Style with BabyBjörn event ~ each day gets even better don't you think?! Keep stopping by each day to see what we have in store for you! Don't forget, at the end of the week we will have 3 fabulous prize packages focusing on each stage of feeding for kids:
Baby Package offers their great High Chair ($299.95 Value)
Toddler Package includes: Smock, Bib 2-pack, 2 Cups, 2 Plate & Spoon Sets ($136 Value)
Preschool Package includes: Booster, Smock, Plate & Spoon Set ($140 Value)
We really adore our BabyBjörn Soft Bibs

 and BabyBjörn Eat and Play Smocks

 for so many reasons. We need to pick up a few for our diaper bags actually! Do you prefer the Soft Bibs or the Smocks for your little ones?


Leave a comment HERE, at Coping with Frugality and Joy of Momma Joyner on our Soft Bibs and Eat and Play Smock reviews and get your "extra entries" done early for the upcoming giveaways!