When we have a little one mealtime can become challenging at times, ever try to juggle feeding a baby and yourself? Yikes lol! Thankfully BabyBjörn has your family covered from just starting solid foods age all the way through sitting in a chair with no additional assistance! Both the BabyBjörn High Chair and the BabyBjörn Booster Chair are convenient, easy to use, portable and designed with your children's safety and needs in mind making them necessities in every home with children.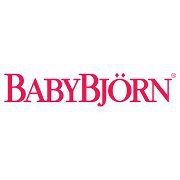 Tates is in the 'I'm a big boy and can do it myself' phase right now which  makes the BabyBjörn Booster Chair his best friend. I adore all the wonderful features especially how easy it is for him to crawl in and out of with no assistance. This is definitely the seat for little ones to feel BIG ;).
The Booster Chair is lightweight making it great to take with you everywhere you go and is so easy to install and use.
1) Release the booster chair attachment system by pressing the two-stage lock (a black knob on the back of the booster chair). The attachment strap is now unlocked and you can feed it out to the required length.
2) Place the BABYBJÖRN Booster Chair on an appropriate* chair and secure the attachment system by fastening the clasp and then pressing-and-twisting the black knob to tighten the straps.
3) Make sure that the straps are properly tightened – they should not hang loose under the chair. Always check that the booster chair is firmly and securely fastened on the chair before letting a child sit on it.
*Remember! Use the attachment system at all times! Always use se only on chairs with four legs and a backrest. Not for use on bar stools, stools, folding chairs or chairs with a round seat.The chair  is easily cleaned by wiping with a damp cloth so no worries for extra cleaning, as moms who doesn't love that? The High Chair is just as easy to clean and use, and honestly is is as portable too! You can fold it to be very slim for storing while not in use making it a great high chair if your dining space is limited.I absolutely love the design of the High Chair! It is ergonomically correct and the curved backrest and the rounded, adjustable safety table hug your baby for a snug fit. You can easily move the entire tray table down so you can put children in and out without squeezing them and the leg rest is great for their comfort too. The detachable tray is dishwasher safe however we just wipe it off, the smooth and clean lines make it no worry for germs or food getting trapped!The high chair is designed for children ages 5 months up to 3 years and as you can see it does work outside the guidelines (we tested this at our own risk for demonstration purposes only, please follow manufacturer guidelines), the children pictures about are 4 months old, 2 years old and 3 1/2 years old. The safety harness fits all three children comfortably making it where they are all safe and can't 'escape'!
Huge bonus for both the High Chair and Booster Chair, they both come pretty much ready to use straight out of the box! You simply pop the legs on the High Chair and place your child inside and for the Booster Chair you just install it on your chair, LOVE IT!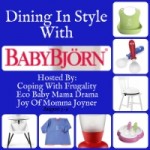 Today is the last day of reviews for the Dining in Style with BabyBjörn event ~ it's been a fun week don't you think? Don't forget to enter to win one of the three fabulous prize packages focusing on each stage of feeding for kids:
Baby Package offers their great High Chair ($299.95 Value)
Toddler Package includes: Smock, Bib 2-pack, 2 Cups, 2 Plate & Spoon Sets ($136 Value)
Preschool Package includes: Booster, Smock, Plate & Spoon Set ($140 Value)
I don't know how we survived before we had our BabyBjörn High Chair

 and BabyBjörn Booster Chair

, we really do love using them everyday! Which one would you love to own, or do you NEED both? 🙂


Leave a comment HERE, at Coping with Frugality and Joy of Momma Joyner on our High Chair (and Booster Chair) reviews and get your "extra entries" done early for the upcoming giveaways!