Scandinavian Child Int'l (SCI) is the North American owner and exclusive distributor of extraordinary children products that meet the highest style, function and safety standards of parents, including Svan, lillebaby, and Béaba brands.  SCI cares for the environment too offering eco-conscious designs that emphasize sustainable raw materials, lead-free finishes, Phthalate-free plastics, PBDE-free cushions, low-VOC paint, and formaldehyde-free plywood.
As Tates enters the toddler years and asserts his independence more everyday we run into a situation in which he doesn't want to sit in a high chair but is entirely too small to sit in a regular chair at the table to eat.  We want him to feel like a big boy however safety is our major concern as he is still our baby.  The natural colored Svan Lyft Baby Booster Seat we were sent has been an absolute lifesaver for us, it comes full assembled - out of the box and ready to use!
Check out the awesome features of this booster:
Designed for children 18 months to 5 years (up to 50 lbs.), you can get years of use with this wonderful booster allowing the whole family to sit together at the table - Tates feels like a big boy!
The Lyft has fully adjustable legs and telescopic rods for quick and easy use on almost any (non-curved back) adult sized kitchen/dining room chair
3 Point safety harness to make sure your baby stays put.  Two fastening straps to secure booster to the backrest and seat base of adult chairs as well as anti-slip feet to ensure stability on your chair and prevent scratching furniture surfaces.
The backrest is ergonomically designed to support the backs of small children
The Lyft booster is very lightweight as well as portable (folds compactly) and can be easily transported with the included carry bag
Smooth polished surfaces (available in 3 beautiful finishes) make clean up super easy which every mom can appreciate!
So you know this booster is mama approved, with all it's great features it is our solution to our 'baby' wanting to be a big boy at snack/meal time…..but what does Tates think of it?  Check him out!
The Svan Lyft is a mama and baby Must Have whether you are planning on travelling and need an easy to use portable chair or just want the perfect at home solution to the in between high chair to big kid years.
Buy It: You can purchase the Svan Lyft Baby Booster seat directly from the Scandinavian Child International website or locate a retailer near you!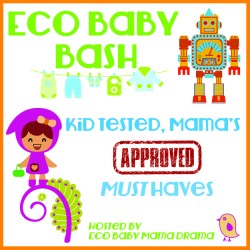 SCI is an Eco Baby Bash sponsor and if generously giving away one Svan Lyft Baby Booster Seat to a lucky Eco Baby Mama Drama reader!
Javascript must be enabled to enter this giveaway.

Loading Entry-Form