How about an early week pick me up? Maybe even a Tuesday night pajama party with the kids? Well I've got just the thing for you, Veggie Tales: The Little House That Stood will have your family in stitches with laughter and after  seeing it a few times your kids will be singing along too I'm sure!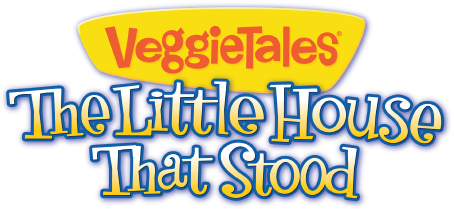 This new video parodies some wonderful tales that we all grew up hearing about. First the three builders who build houses in different ways and the piggies that live in the houses. It's a refreshing twist on the classic story and a fun new way to teach kids about making good decisions.   One builder builds with hay, one with sticks and one with bricks, sound familiar? It emphasizes building on a solid foundation which is a great life lesson and as always with the VeggieTales you get great characters that make even mom an dad laugh too.
Veggie Tales sent us a DVD to review (before it was available to the public) yippee! We are always super excited to add a new VeggieTales movie to our collection and just like the other, we love it!  I have to admit it is one of my favorites and Tates simply adores the piggies  and "The Good Egg of Gooseville" makes him laugh uncontrollably. Bob is just too cute portraying Humpty Dumpty!
Purchase: You can purchase the new DVD at Walmart stores when the DVD releases tomorrow (Tuesday, March 5th) and you will receive an exclusive FREE 24 piece puzzle! Use the coupon below for $3 saving!