The creators of Veggie Tales have come up with another wonderful and entertaining series for children called 3-2-1 Penguins.  Originally a Saturday morning series airing on NBC but now available in one DVD offering the entire first season for your little ones in home entertainment!  Each episode is 20 minutes offering your family a great show even if you are crunched for time, or if you are in the mood for a marathon you can watch the entire 5 hours!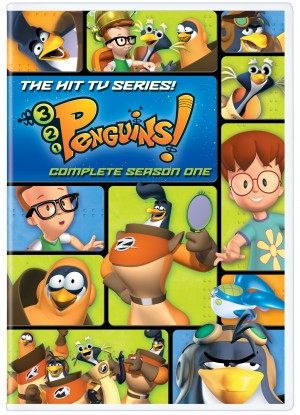 Although this animated series isn't specifically about Bible stories (like Veggie Tales) there are several very important lessons in morals as well as scriptures being shared from the 'Good Book' and prayer is shown too.  This is definitely a fabulous series to get your kids into, and the characters are fun no matter what age your kids are!
Revel in the adventures of Space Penguin Pals Zidgel, Fidgel, Midgel and Kevin as they engage their young friends Michelle and Jason to help solve inter-galatic crises with faith and fun!
I really love the emphasis on getting along with your siblings and problem solving that is displayed and point them out to my older son even though he thinks he is too old for the series but I know he isn't!
There are several fun bonus features too:
How to draw Midgel
Space Academy: Speak like an Alien
Midgel's Cool Blue Space Fuel
Make your own Planet
Check out this short clip!