We have been a Veggie Tales loving family for quite awhile, my 14 year old grew up watching and loving them so when recently given the opportunity to get a sneak peek at the all new full length movie The Penniless Princess I don't know who was more excited, me or Tates!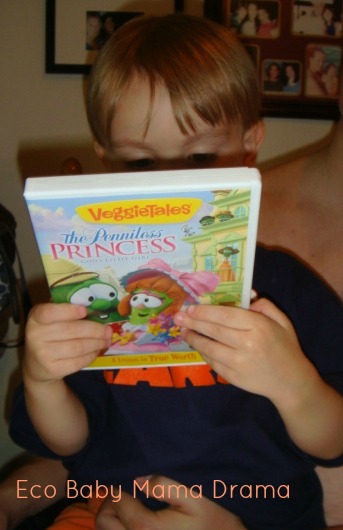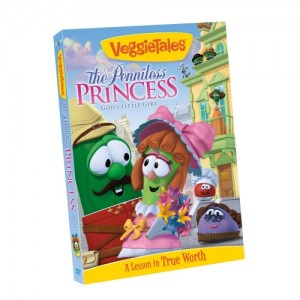 As a Christian mom I love how Big Idea teaches my children important life lessons with absolutely adorable vegetable characters. Tates might not actually be able to say the words Veggie Tales yet but he knows what he wants when it comes to movie time.  In this wonderful new family movie based on the beloved classic story of "A Little Princess" a girl named Sweet Sara Crewe has everything a little girl could want - a loving family, lots of friends, and a closet full of frilly dresses!  But when life takes a turn and Sara goes from riches to rags, will she realize that her true worth lies not in what she has, but what she has in her heart?  Find out in this inspiring new story from VeggieTales that reminds kids who they are in God's eyes.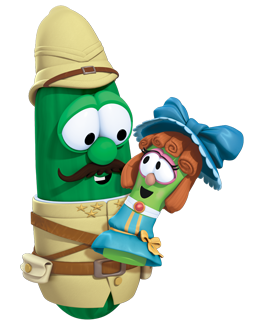 Although this story did make me cry (I am a softy!) it is not sad, there is plenty of wonderful music and great characters to help keep things light and entertaining for the entire family.  You might cry like me but you will definitely laugh out loud and move your tush with the hilarious and creative songs and dancing veggies!  This is a definite must have for your Veggie Tales video library.  Check out the trailer:

Buy It: You can purchase your own copy of The Penniless Princess from the Veggie Tales store  as well as scoop up some of their adorable stuffed animals so your kids can have their veggie pals sitting next to them for movie time!