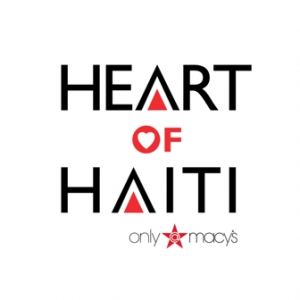 Heart of Haiti is a "Trade, Not Aid" initiative launched by artist and social entrepreneur, Willa Shalit, The Clinton Bush Haiti Fund and Macy's. The Heart of Haiti initiative provides artists with an opportunity to make a living feed their families and pay their children's school fees. Already, The Heart of Haiti collection has led to employment of 750 artists in Haiti providing financial benefits for an estimated 5,000 people in the country.

The collection features more than 40 home decor items including quilts, metalwork, ceramics, and paintings. The craftsmanship and technique behind these works of art, ranging from papier-mâché vases to hand cut metal frames & wall hangings, is truly remarkable.  The collection is made almost entirely from recycled and sustainable items such as old cement bags, cardboard, oil drums & local gommier wood.

I was sent the striking
Horn Stretch Bracelet
and immediately loved it!  The bold eye catching conversation starter has gotten me several compliments every single time I have worn it.  Because each item is a unique work of art, variations in size and color will occur making each bracelet one of a kind (a certificate of authenticity is included with each bracelet).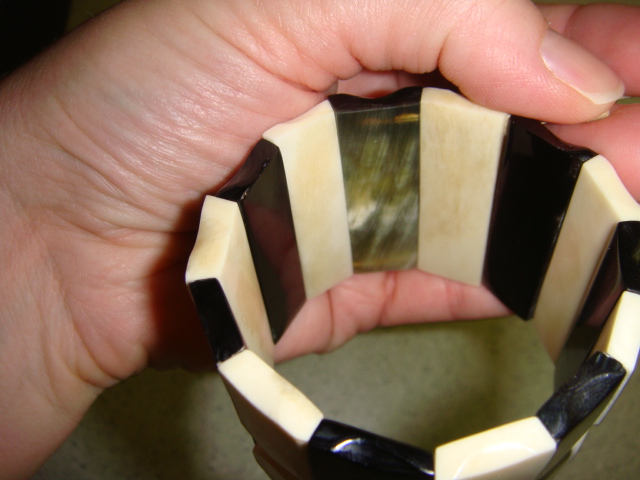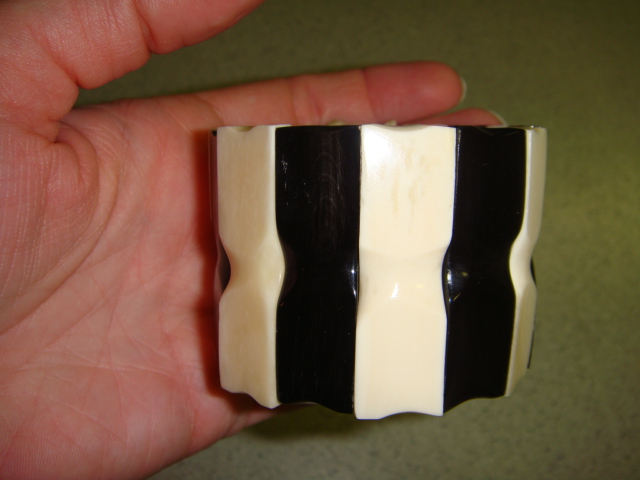 Handcrafted in Haiti from cow horn; only made with materials from cows that are being used for consumption, and having an approximate diameter of 2.5″.  The bracelet is stretchy and very comfortable to wear and dresses up any pair of jeans and t-shirt (great for this stay at home mama!).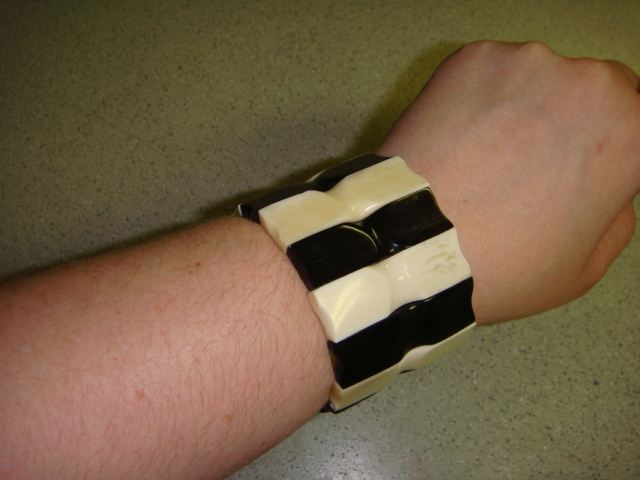 The alternating light and dark color along with the unique shape of each individual piece of the bracelet really do make it a simple yet stunning accessory that every girl, and mom will want!  Each piece of art is truly breathtaking and makes you feel like shopping from the collection can make your Holiday and someone else's great too!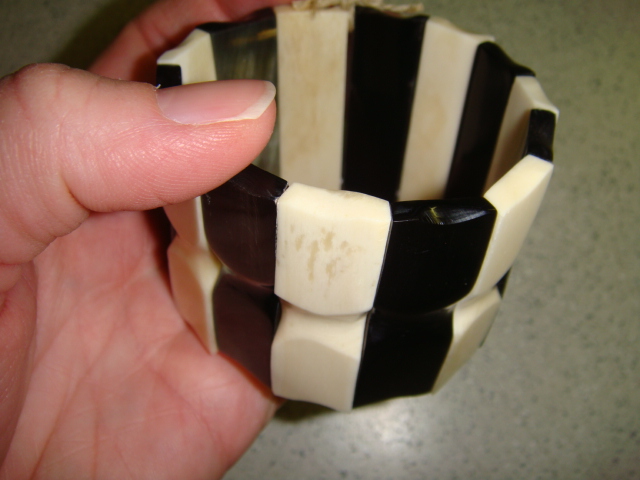 Support the cause: Sharing a "gift that gives back" is a great way to raise awareness and celebrate artistry and regrowth. Each purchase truly helps Haitians get one step closer to being more independent and self sufficient with half the wholesale price going directly to the artisan that hand crafts each beautiful piece.  You can purchase any of the handcrafted one of a kind pieces including the Horn Stretch Bracelet exclusively from Macy's.  Make sure you connect with this great initiative on the Hearts of Haiti Facebook page.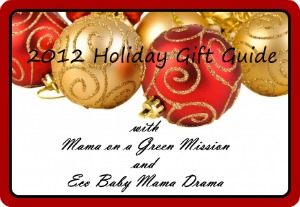 I am teaming up with April from Mama on a Green Mission to bring you our 2012 Holiday Gift Guide!  Make sure you go see what she thinks of the Hearts of Haiti Horn Stretch Bracelet and enter to win her giveaway too!
Let's kick off the giveaways for this Gift Guide!  One lucky reader is going to get a breathtaking Heart of Haiti Songbird Picture Frame  (4″ x 6″) perfect for any home!
~WINNER~ Courtney J