As a self proclaimed handbag addict I am always on the lookout for something new to add to my collection.  Thanks to Twisted Orchid I can always find chic must have handbags and accessories without breaking the bank!  So whether you're an accessory gal who wants to test out a trend before deciding on a big splurge, or you're a fashionista who prefers to shop for fabulous steals - Twisted Orchid has the right piece just for you.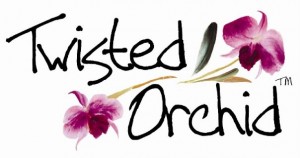 Offering a stylish and wide variety of handbags including taffeta silk purses, echo reed totes, shell handbags and even hidden soles it can be pretty hard to choose just one favorite when you are surfing the Twisted Orchid website.  I was finally able to narrow my favorites down and send a 'Top 5′ list and asked for the folks at Twisted Orchid to choose for me (lol) and was pleased when the Mad Style Rose Dual Bag with Tote for review.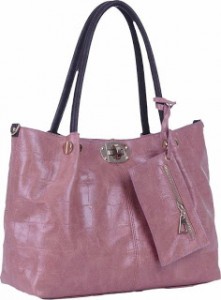 First of all I love the color, hello pink!  I also love the dual brown handles and the yellow gold accent hardware, right up this mama's style alley!  This oversized tote has room for everything measuring 13″ in length, 10″ in heights and 3″ wide and has a second zippered bag inside to keep things organized.  I really like that you can take the second bag out and use it on it's own too, super cool!  I like keeping my wallet, cell phone and keys in here so I always know where they are.  There is also a third little pouch that is perfect on it's own or attached for your quick need items suck as lip balm or mirror

Although the bottom doesn't have little legs like I like on handbags I do love that the outside material is easy to clean which is super important when you live with boys (like me!), just wipe it down and it's like new!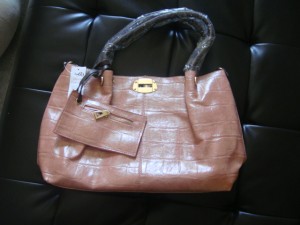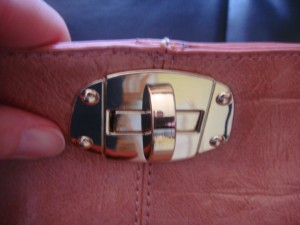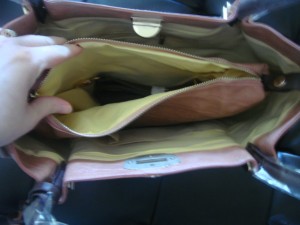 Buy it: You can purchase this bag for only $63, it also comes in Aqua and Apricot!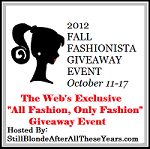 Twisted Orchid is generously sponsoring the Fall Fashionista Giveaway Event here at Eco Baby Mama Drama where you can win anything up to $75!  Which handbag or accessory from Twisted Orchid is your favorite?