When you become pregnant or have a little one in your home you become more aware of what is and is not healthy and safe very quickly.  For me the journey to going green began simultaneously when I was pregnant with Tates and my niece was diagnosed with ALL, I began paying more attention to our food choices, clothing we wear, and cleaning supplies and that was just the beginning.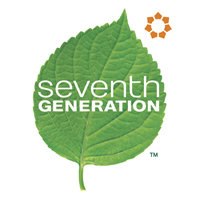 Going green and leading a green lifestyle can be overwhelming (at first) and a challenge.  Although being green is becoming more mainstream and popular there are still some things that aren't available to purchase that are green alternatives to traditional products however thanks to Seventh Generation we can all have some affordable and easy to find green products right at our fingertips!
With all the unhealthy chemicals found in traditional cleaning and household care products I want nothing to do with them and only use safe all natural cleansers, have you ever really thought about what is inside your cleaners?  Please take a moment to watch this short and informative video about household cleaners.  I think you will be surprised at what you see!
Just think if you or your children were that flower, what affect would those chemicals have on the delicate human system?  Yikes, I don't want to even think about it!  Taking small steps to going green can make the green movement in your life easier and healthier for your family!  Special thanks to Seventh Generation for making that video and showing how harmful certain things really can be!
This is a sponsored post written by me on behalf of Seventh Generation. The opinions and text are all mine.