I know there is some controversy surrounding the use of night lights in your child's room however I have always been a fan of having some kind of low lighting available in the nursery, especially during a 2am changing or feeding.  So here are a few problems I have come across when it comes to night lights: night lights in outlets where a little one can reach them are easily taken out of the outlet leaving exposed outlets (not to mention night light themselves are not toys) and night lights are HOT and can hurt a little ones hands. So I end up changing Tates in the dark so there is no bright light on to wake us both up fully and to completely avoid the outlet issue.  We have tried traditional outlet covers and Tates can take them out of the outlets but that is a whole other post!
I am super excited that I found a night light that not only solved my issues but also helps keep Tates entertained during diaper changes too!  This adorable Quarter Moon Night Light is perfect for any age little one and older children as well.  Kinderglo offers several fun and adorable character night lights that are a great addition to any nursery or big kids room and they are all child friendly and safe.  Each night light offers a friendly face pal for your little one to love and play with and since all Kinderglo night light are BPA and lead free you have no worries if they want to play all day with it!  
The fun stars on the back of our 'moon friend' are a favorite thing for Tates to point out to us while he is getting changed and he loves showing us the moons nose and eyes too.  Each night light is powered by rechargeable LED lights that are just bright enough to illuminate your little ones room without being too bright and the lights are never hot, they are never even warm!  Your little one can tote their light buddy around all day and you don't have to worry about anything except making sure you recharge their friend. That is another wonderful convenience the Kinderglo folks have you covered on, these night light come with a charging station (compatible with all Kinderglo night lights) and a long 6′ charging cable so you can hide that cable from your little ones and they won't be tempted to touch that hazardous outlet. You can choose to have the night light set to turn off automatically after 30 minutes or it will stay on for 8-10 hours when fully charged.
As you can see our moon friend (and all the other cute critters Kinderglo offers!) light up in 3 cool colors; red, green and blue.  There is the option of having the night light fade into each color continuously or you can have just one color on all the time and choosing is easy enough that Tates can do it all by himself.  Simply press the little button on the bottom of your night light to whatever option your little one is in the mood for and that is it!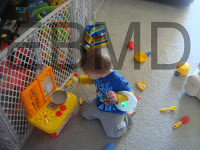 Tates takes his moon friend everywhere, see he is playing with his mini kitchen and his moon is on his arm-we rarely see him without him moon!  I love that it is easy to take with us too, whether it is to see grandma or if an older child wants to take to a sleepover!  Now I just need an excuse to cover me wanting to purchase ALL of the characters!  Which Character is your favorite?


Purchase Kinderglo: You can purchase your own night light friend from several authorized Kinderglo retailers or purchase directly from the Kinderglo online store and use coupon code HCU8LP0BQIZP for $5 savings!