It's time for me to give up three more things about me since it's Thursday! Are you ready? We've changed it up just a bit and instead of us giving three answers to each of the three questions…we are just sharing three things about ourselves.
We hope you are enjoying this feature!! Let us know your thoughts and if you have questions for us be sure to let us know! We would love to have your input and we'd love to answer your questions…maybe! 😉
If you are new this week, welcome and thanks for stopping by, we hope you'll come back every week! If you are a blogger, please link up! We'd love to get to know you, too!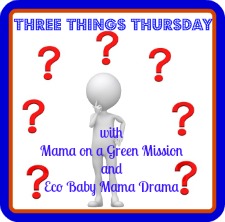 Here is how it works: Remember those emails that used to go around all the time, the ones that were like 20 questions about you and you were supposed to answer them and email to all of your friends to let them learn new things about you? Well, we are bringing them back with a twist!
In today's busy world sometimes we don't get to know people as well as we would like to so Mama on a Green Mission and I thought we would bring back a fun getting to know you weekly feature.
We will post three questions and give up the answers for each question to let you learn more about us. You see many reviews from us so we want to give you the chance to learn other things about the green gals behind the reviews! 🙂 Hopefully you learn some fun facts and aren't too shocked!
When was the last time you wrote a letter to someone on paper? Received a letter?
Well it's been quite awhile since I hand wrote a letter, honestly I don't even remember the last one. My great grandmother and my grandma (her daughter) send my boys (and myself) cards with nice little letters in them on all holidays and birthdays which we love to get.
Can you change the oil in a car or change a tire on a car?
YES! Although my dad, husband and brother are quick to help with these types of things I am completely capable of doing them on my own. Fun little story to share, a few years ago I won a cool 'prize' from a local radio station and got to meet and have race car drivers Hélio Castroneves and Sam Hornish Jr. change my oil! Both of the guys are super nice, Hélio being very outspoken and Sam being more quiet.
Last musical you saw? Do you think musicals are cheesy?
Hmm, I *think* it was Annie? My dad used to take us (myself and siblings) on 'dates' where we would get to go see musicals at an outdoor theatre and sit in box seats, just my dad and one child at a time, so fun! We would get dressed up all nice and make an evening of it, I miss those dates ;)!
Please feel free to share your answers as well as submit ideas for questions for future posts! I won't guarantee we will answer them all though 😉
If you are a blogger please feel free to post your answers and link up with us so we can get to know you better! You can get the InLinkz code and add it to your post if you'd like!