It's time for me to reveal three more things about me since it's Thursday! Are you ready? We've changed it up just a bit and instead of us giving three answers to each of the three questions…we are just sharing three things about ourselves.
We hope you are enjoying this feature!! Let us know your thoughts and if you have questions for us be sure to let us know! We would love to have your input and we'd love to answer your questions…maybe! 😉
If you are new this week, welcome and thanks for stopping by, we hope you'll come back every week! If you are a blogger, please link up! We'd love to get to know you, too!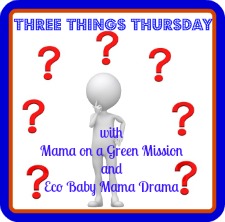 Here is how it works: Remember those emails that used to go around all the time, the ones that were like 20 questions about you and you were supposed to answer them and email to all of your friends to let them learn new things about you? Well, we are bringing them back with a twist!
In today's busy world sometimes we don't get to know people as well as we would like to so Mama on a Green Mission and I thought we would bring back a fun getting to know you weekly feature.
We will post three questions and give up the answers for each question to let you learn more about us. You see many reviews from us so we want to give you the chance to learn other things about the green gals behind the reviews! 🙂 Hopefully you learn some fun facts and aren't too shocked!
Would you rather have less work to do, or more work you actually enjoy doing?
Hmm, this is a toughie! I can multitask pretty well and I always seem to have lots to do (lol) so I would choose more work that I enjoy 🙂
What do you want to do that you just can't find the time for?
Read! I can't remember the last book I read honestly and it drives me nuts! Well the last book that wasn't read to Tates I mean 😉
Do you ever dance even if there's no music playing?
Ha! This is so funny huh? I don't usually dance without music but when there is some tunes I find myself movin' and groovin' when I wasn't intending on it! I can seriously belt is out in the car when I am alone too, I can only imagine what other people think!
Please feel free to share your answers as well as submit ideas for questions for future posts! I won't guarantee we will answer them all though 😉
If you are a blogger please feel free to post your answers and link up with us so we can get to know you better! You can get the InLinkz code and add it to your post if you'd like!