It's time for me to reveal three more things about me this Thursday morning! Are you ready? We are doing things just a bit different this week. Instead of us giving three answers to each of the three questions…we are just sharing three things about ourselves.
We hope you are enjoying this feature!! Let us know your thoughts and if you have questions for us be sure to let us know! We would love to have your input and we'd love to answer your questions…maybe! 😉
If you are new this week, welcome and thanks for stopping by, we hope you'll come back every week! If you are a blogger, please link up! We'd love to get to know you, too!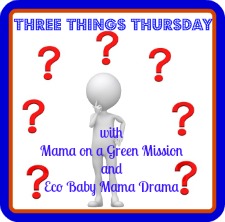 Here is how it works: Remember those emails that used to go around all the time, the ones that were like 20 questions about you and you were supposed to answer them and email to all of your friends to let them learn new things about you? Well, we are bringing them back with a twist!
In today's busy world sometimes we don't get to know people as well as we would like to so Mama on a Green Mission and I thought we would bring back a fun getting to know you weekly feature.
We will post three questions and give up to three answers for each question to let you learn more about us. You see many reviews from us so we want to give you the chance to learn other things about the green gals behind the reviews! 🙂 Hopefully you learn some fun facts and aren't too shocked!
Prom…Who did I go with? What did I wear? Details…
I went to prom two times, once as a junior and once as a senior. I honestly don't remember anything about junior year prom and senior year prom was pretty bust. I honestly don't remember what dress I wore (although I am sure my mom still has it!) but I do remember I went with my then boyfriend (a sophomore) and oddly enough he had the same name as my husband (lol). I got sick during the dance, I had a fever and was exhausted and ended up going to his house to watch a movie and fell asleep on the couch, then drove myself home…PARTAY animal huh? Yea I know!
First long trip in the car that I can remember?
I'm not a traveller (lol) however I did used to go see my grandparents (on my dads side) for Thanksgiving before they moved to CA. My mom, dad, 2 sisters, brother, myself and our dog would load up in our van and drive 10+ hours. I honestly think it is one of the reasons we are so close today…..we were forced to be! LOL!
A Date I'd Love to Go on with Hubby?
Hmmm, this is a tough one. Hubby and I didn't go out on dates very much even when we were 'dating' so the adventures here are endless I suppose! I would have to say the day would start off with waking up in a king size bed without any kids (lol at the co-sleepers!) and then consist of us relaxing and taking our time to enjoy the day with some various activities like going to some of our favorite restaurants, maybe catching a movie? Oh maybe going gambling! Although hubs isn't a huge gambler I love playing the casino!! So not so much adventure as us just enjoying time with each other ;).
Please feel free to share your answers as well as submit ideas for questions for future posts! I won't guarantee we will answer them all though 😉
If you are a blogger please feel free to post your answers and link up with us so we can get to know you better! You can get the InLinkz code and add it to your post if you'd like!