It's time for another interesting session of Three Things Thursday! If you are new this week, Welcome! Here is how it works:
Remember those emails that used to go around all the time, the ones that were like 20 questions about you and you were supposed to answer them and email to all of your friends to let them learn new things about you? Well we are bringing them back only with a twist!
In today's busy world sometimes we don't get to know people as well as we would like to so Mama on a Green Mission and I thought we would bring back a fun getting to know you weekly feature.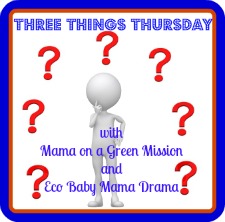 We will post three questions and give up to three answers for each question to let you learn more about us. You see many reviews from us so we want to give you the chance to learn other things about the green gals behind the reviews! 

 Hopefully you learn some fun facts and aren't too shocked!
Places I like to Shop: 
Coach (drool!)
Target (they have everything!)
Costco (I love a good deal!)
Things I Wish I did Before my Kids:
Finish College
Travel
Save more money
Nissan Armada
Lexus LX
Infiniti QX56
Please feel free to share your answers as well as submit questions too!  I won't guarantee we will answer them all though ;) If you are a blogger please feel free to post your answers and link up with us so we can get to know you better!