Can you believe it's Thursday again? Already!? It's time for another week of Three Things Thursday!! Are you enjoying this feature? Let us know your thoughts and if you have questions for us be sure to let us know! We would love to have your input!
If you are new this week, welcome and thanks for stopping by, we hope you'll come back every week!
Here is how it works: Remember those emails that used to go around all the time, the ones that were like 20 questions about you and you were supposed to answer them and email to all of your friends to let them learn new things about you? Well, we are bringing them back with a twist!
In today's busy world sometimes we don't get to know people as well as we would like to so Mama on a Green Mission and I thought we would bring back a fun getting to know you weekly feature.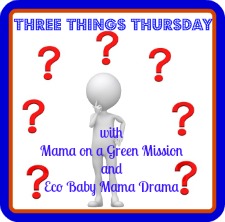 We will post three questions and give up to three answers for each question to let you learn more about us. You see many reviews from us so we want to give you the chance to learn other things about the green gals behind the reviews!

Hopefully you learn some fun facts and aren't too shocked!

Pregnancy Cravings I Had:

Subway
Fruit
Salad
No joke I am super healthy when pregnant and with Tates I lost 20 pounds!!
Three Apps I Use Most Often (I'm gonna cheat here):

Social Media ~ (totally grouping these together lol) Facebook, Twitter, Pinterest, Instagram, LinkedIn, Klout, Messaging (Facebook & Texting)…love that these are easily accessible from my cell!
Games ~ Words with Friends, DrawSomething, SongPop, Solitaire
WordPress ~ Comment Moderation on the go 😉
What Makes Me Cry:

Violence ~ bullying, abuse and hate when it happens to people and I see/read about it breaks my heart.
Almost anything child related (good and bad) ~ parents experiencing loss, an emotional struggle, crimes involving children, children defeating odds are a few examples, kids are my heart and when I hear/read about them my heart strings get pulled.
When people confide ~ I've been blessed to meet so many wonderful people through my blog and made some great friends. In this day and age a virtual friend is more common than ever and I am proud to say I have quite a few that have been there for me and I feel I have been there for them. When I have shared or been confided in about a situation I really feel not only honored but closer to that person, just this afternoon I was in tears about one of my friend's situations and wished I could just go hug her, her strength and stories give me courage.
Please feel free to share your answers as well as submit ideas for questions for future posts! I won't guarantee we will answer them all though 😉
If you are a blogger please feel free to post your answers and link up with us so we can get to know you better! You can get the InLinkz code and add it to your post if you'd like!