I've mentioned before my family loves playing games and doing activities together, and as a parent that had a late speaking child I can really appreciate the opportunities educational games offer. Tates opened up the door for me to really take on a new role as 'teacher' and with the help of places like Super Duper Publications I am well equipped to give him the extra help and attention he needs.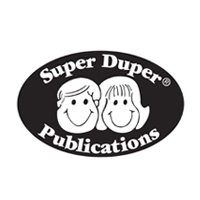 Super Duper Publications offers materials such as games, workbooks, and flashcards to help children improve many important skills such as listening, paying attention, communicating, reading, and social interaction. These tools really help kids to prepare for a successful school career while offering fun family time activities you can bond with your children over.
We were sent a wonderful selection of games to play with the boys including All About You, All About Me Fun Deck, TopicTalk™ Conversation Card Game, MagneTalk Early Classifying, and Lids 'n Lizards® Magnetic Photo Vocabulary Game.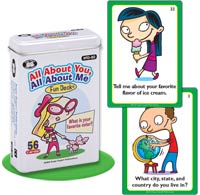 All About You, All About Me Fun Deck comes in a handy storage/carry tin making it easy to take with you anywhere and includes 56 question cards aimed at Pre K-5th grade. The cute characters and colorful activities they are shown doing entertain little eyes while offering open ended questions (as well as game ideas) encouraging all player to get to know each other. I think this is a great game for any age really and can be used as an 'ice breaker' activity or to really just get to know someone you think you might already know ;).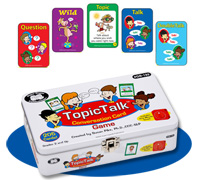 TopicTalk™ Conversation Card Game is great for older kids (recommended for Grades 2 and Up) and makes for a wonderful tool in helping kids to become more comfortable with public speaking as well as developing conversation skills. The game includes topic, talk, question, doubletalk and wild cards designed to help kids have well rounded conversations, practice makes perfect right? With this game you are sure to have more thorough discussions with your children (especially when you make sure everyone is taking there turn to talk and being active listeners) and they are sure to offer more information about whatever the topic of any conversation is, definitely a great way to practice effective chatting. The game is also in a handy tin to make sure you always have your cards (and included timer) safe together.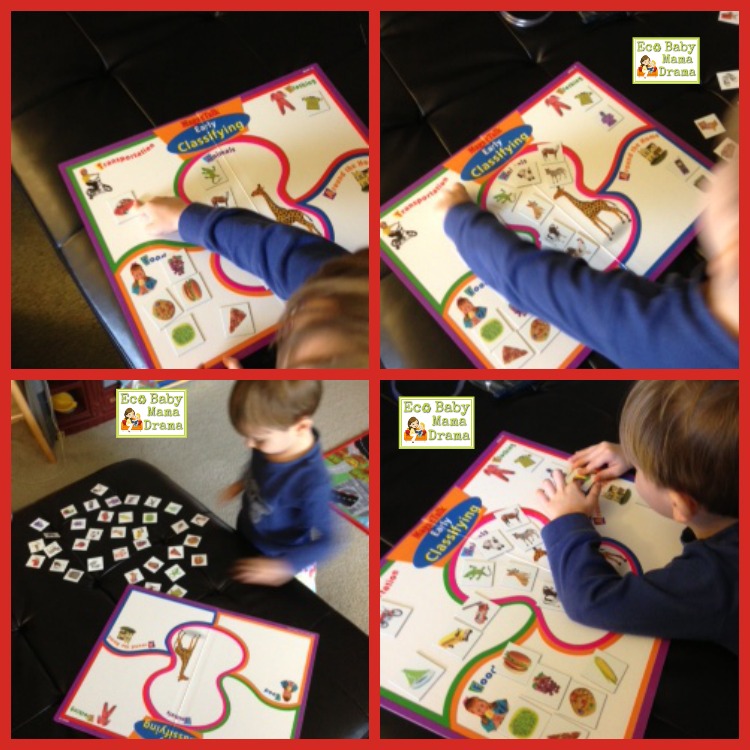 The MagneTalk Early Classifying game is a huge hit in our house! The fun little carry bag is toted around everywhere we go and Tates really enjoys showing off his identification and classification skills to whomever will watch. The magnetic board along with the real life photo game pieces are perfectly sized for little hands to manipulate and move around with ease and encourage Tates 'I big boy, I can do it' attitude. Each of the 35 pieces has it's own category to be placed in (Clothing, Transportation, Animals, Food, and Around the House) and when your child masters that stage you can use the pieces to get creative and make some pretty funny sentences if you choose one of each category.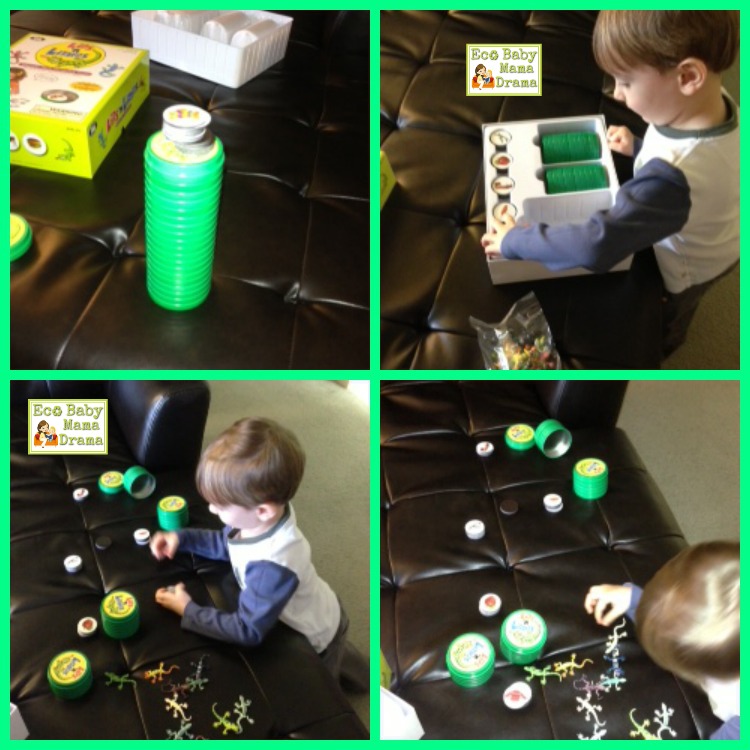 Lids 'n Lizards® Magnetic Photo Vocabulary Game takes the MagneTalk game a step further by offering not only identification and classification but also the options of finding a hidden lizard under the Lids for a little competition/reward maybe for the extra hard words your child is currently struggling with. The game comes with a great selection of magnets and is fabulous for younger vocabulary building and older kids for sorting/categorizing and can be modified to play several other fun games (game ideas included).
We have really been enjoying playing these educational games since receiving them and I know we will continue to for quite some time. Super Duper Publications website offers tons of valuable information on how to play their games including video demonstrations and play variation ideas.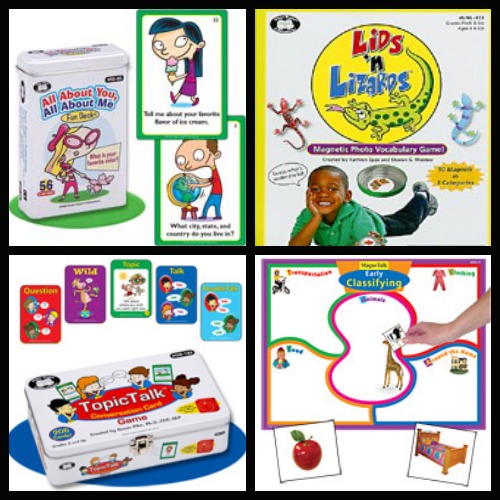 One lucky Eco Baby Mama Drama reader will win their choice of ONE of the games below:
All About You, All About Me Fun Deck
TopicTalk™ Conversation Card Game
MagneTalk Early Classifying
Lids 'n Lizards® Magnetic Photo Vocabulary Game
Just enter on the easy form below for your chance to win and Good Luck!