Hello Friends! Thank you for stopping by this week's Feed Me Friday Blog Hop, hosted by Nap Time is My Time, Great Contradictions and Eco Baby Mama Drama!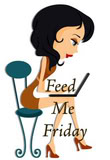 What makes Feed Me Friday so different from other blog hops? It's designed for you to build your email subscriptions while networking with other amazing bloggers!
Want to be a part of Feed Me Friday?
Just follow these simple requests:
Add your blog link to the linky
Subscribe by email and follow via Google+, Linky Tools, or BlogLovin' each of the three hostesses (Nap Time is My Time, Great Contradictions, and Eco Baby Mama Drama). If this is your first time linking up, please be sure to leave us a comment and we will return the favor.
Visit as many blogs on the list as you can. If you like the blog subscribe to their email (feel free to follow on Google+, Linky Tools, or BlogLovin' too, if you want)
Leave them a comment with your blog link so they know you are subscribing from Feed Me Friday. Be sure to confirm your subscription! Subscribing back is not mandatory, but it is encouraged. It is a great way to build blogging relationships.
Since this is an email subscription blog hop, your blog must have a place for people to subscribe to your email.
If there isn't an email subscribe option, your link will be removed from the linky without warning. Please link up your home page only - no giveaways, no shop links!
We appreciate all of our loyal regulars! We have decided to spice things up with a weekly recipe. Every Friday we will put up a new Feed Me Friday linky with recipe, so be sure to stop by and add your blog.
Next week, we'll be choosing a featured blogger, so if you'd like a chance link up below Hope you enjoy the recipe and look forward to seeing you all next week! Have a recipe you would like to have featured? Contact us to find out how!
Ingredients:
whole chicken (4-5 pounds)
3/4 c. apple cider vinegar
1/2 c. oil (this time I melted coconut oil; sometimes I use olive oil)
1 TBSP McCormick Grill Mates Montreal Chicken
1 TBSP each of Black Pepper, Chili Powder, and Paprika
Directions:
1. Cut up your chicken. This is one of my least favorite tasks, so my husband handles this task. If you are short on time, there are pre-cut whole chickens found at the grocery store.
2. In a covered container big enough for your chicken, combine all ingredients except the chicken.
3. Once you have the marinade mixed throughly, add chicken, place lid on tightly, and shake to coat chicken.
4. Allow chicken to marinate for at least 1 hour. However, I am a fan of starting the marinade the night before or morning of cooking. The longer the marinating the more juicy and flavorful the chicken is. If using coconut oil, the oil will clump some upon refrigeration. However, when cooking it does not affect the outcome.
5. Start grill to have it at medium heat for the chicken. For crispier chicken, we place chicken on a plate 30 minutes prior to cooking to let excess marinade dip.
6. Once grill is at medium heat, place chicken on grill for 45 minutes. We prefer to baste & flip every 5 minutes for flavorful, crispy chicken.
7. This is deliciously addictive. I often double the batch to have leftover chicken to use in recipes throughout the week…salads, soups, tacos, enchiladas, casseroles…Enjoy!
*Make sure to have a glass of water handy to avoid overly blackened chicken from the flames.
*Make ahead: add chicken to marinade then freeze. Defrost the night before cooking. I would not suggest coconut oil if freezing.