I have been a George Foreman Grill user for quite some time now, actually as my family grows I keep trading in and getting bigger ones.  We love grilling  however apartment life doesn't always make it a possibility but thanks to our George Foreman Grill we can not only grill all our favorite foods year round but also with less fat too!
With the sloped design and grease catching tray this super easy to use indoor grilling machine is really getting a workout at our home since receiving it recently to test out.  I was chosen to take part in The George Foreman Grill: Show Us Your Grill Skill Recipe Contest which means I challenged myself to come up with an original recipe and I am proud to say not only is it super easy to make but pretty darn delicious too!
I thought a steak sandwich sounded tasty so I asked my butcher what the best kind of meat to use would be and went from there, the recipe I came up with is called:
Scrumptious Steak Sandwiches
1 1/2 pounds Hoosier steak (roughly 6 cuts of thin steak)
2-3 Tablespoons of course ground Chicago Style Steak seasoning
4-5 Tablespoons of light soy sauce
1/4 cup A1 steak sauce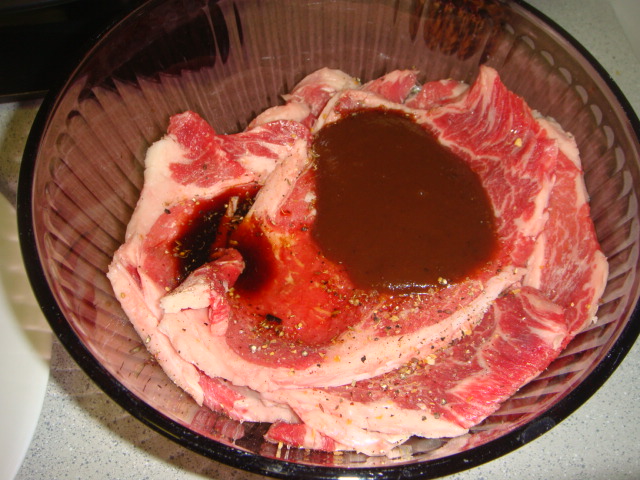 Toss all ingredients in a bowl and marinade (either overnight in your fridge or for as little as 15 minutes, your choice!)
Place your steaks on your George Foreman Grill, since the grill plates are on top and bottom your steaks cook super fast, literally done within a few minutes!
While your steaks cook, grab your favorite type of bun (we chose hoagie rolls with sesame seeds) and add your favorite sandwich toppers.  My husband likes tomato and pepperjack cheese while I prefer pepperjack cheese and some extra A1 sauce and the kids eat them plain.
Serve with your families favorite side items, for this meal my husband made some homemade potato chips!
Simple, Scrumptious and guilt free with all the fat in the draining tray instead of on your food, what's not to love?  What do you cook on your George Foreman Grill?
Disclosure: I was provided a  George Foreman Grill from Family Review Network . All opinions are my own personal and honest thoughts.