Can I tell you how much I love the PlasmaBike, oh, and how much Tates loves it, too.  I guess it is for him and not for me, huh? From the makers of PlasmaCar this is the next step up for our toddler to being a big boy and on two wheels!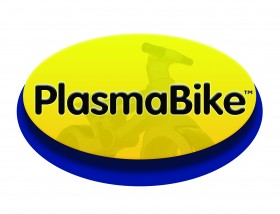 What is a Plasma Bike?  Well, let me tell you!  It's a great bike that encourages your little ones to ride without pedals, and teaches balance which is great for toddlers!  It also helps with coordination and motor skills too.  It balances so much better than any other toddler bike I've ever seen!  It doesn't lean (it stands on it's own), it's strong, durable, and lightweight, and Tates has been riding around on it in the house ever since it arrived!  We've also taken it outside for some fun adventures.  It's perfectly sized for him, and the thick wheels make it great for kids his age…Oh, and the horn is pretty fun, too Beep! Beep!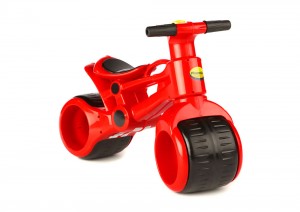 Kids as young as 18 months can enjoy the PlasmaBike, which is the age where they want to hop on everything and ride it anyway, right? I'm sure your dogs know what I'm talking about!!!  The PlasmaBike balances so well, that there is no need for training wheels, or the anxiety for both child and mommy when it comes to trying to keep the bike upright although we always wear our helmet when actually riding….just incase.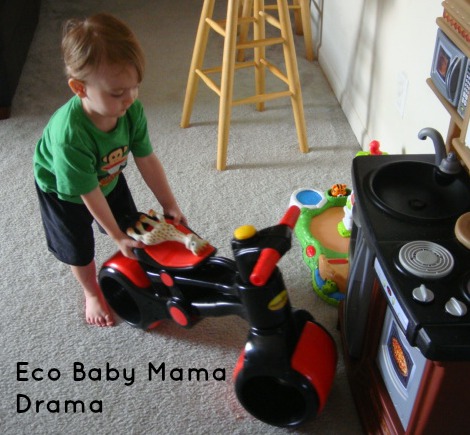 As I mentioned it is very lightweight which is good for turning, and transporting when you're outside or in, and your kids want to do just the opposite.  There's nothing worse than having to take a tricycle outside…they're heavy, and wobbly, which I didn't experience with the PlasmaBike, because there's a great easy carry handle!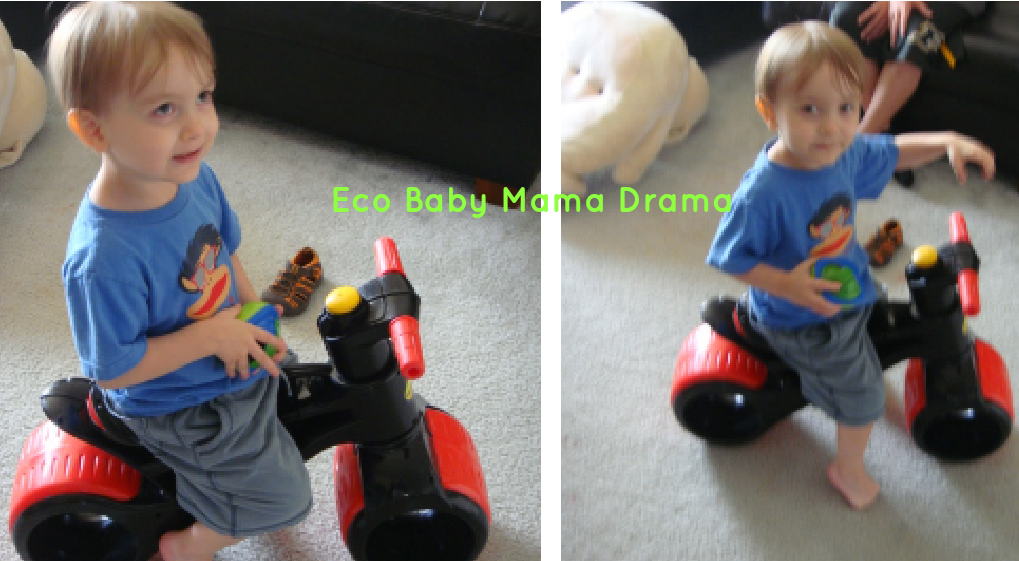 All in all we LOVE the PlasmaBike and the super fun fire engine red color we received 😉  I totally recommend the PlasmaBike for any child that is ready to scoot his or her way around the world.  All of the fun, and none of the worry of falling over.  If you haven't tried the PlasmaBike out for yourself, you should!  Great exercise for baby, and lots of fun for everyone!
Make sure you head over and see what Mama on a Green Mission thinks of her PlasmaBike!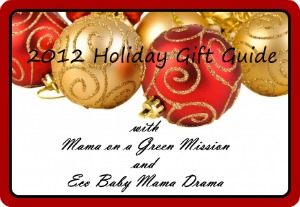 But It: You can purchase this must have balance bike and get it in time for the holidays too! You will be so happy with your PlasmaBike

!
~WINNER~ Kim C.

One person entering per household please. Giveaway is open to US and Canada only. Must be 18 years old. Review/giveaway bloggers are not eligible to win. Spammers are not eligible to win. Winner is chosen by Eco Baby Mama Drama via random.org and will have 48 hours to respond to notification email or a new winner will be selected. This giveaway is not affiliated, sponsored or endorsed by Facebook or Twitter. This giveaway is sponsored by and prize fulfillment is by Plasmart. Eco Baby Mama Drama is not responsible for sponsors that do not fulfill their prizes.