Style, elegance and class immediately pop in my head as I drool over the entire Mia Bossi diaper bag collection online.  Am I crazy for dreaming of owning a Mia Bossi diaper bag?  Nope I am crazy for thinking I can choose just one to love!  I was sent the Mia Bossi Caryn diaper bag

 in the *NEW* Black Bean color way, it isn't even available for purchase yet!  Boasting the same fabulous features as the popular Tangerine bag, this new color way is gorgeous!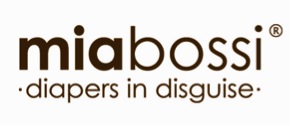 Created by three moms that were tired of seeing the same old boring and not very fashionable diaper bags these ladies really outdid themselves.  Hand crafted with only the finest Italian leathers and fabrics each style bag combines cutting edge fashion (HOT mama!) with highly functioning designs making the entire line of bags every mom's dream bag.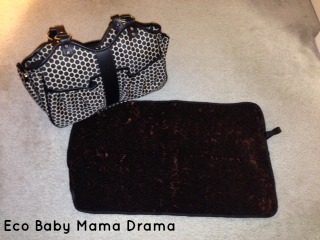 I am really enjoying my new Caryn bag and have to guard it with my life, my mom wants to steal it and use it as her handbag! The signature dotted waxed canvas exterior seems like it is wipeable for easy cleaning, however, when I received the bag there were some reddish marks that I have been unable to wipe clean.  The long double handles make it super easy to carry even if you stuff it pretty full.  My bag doesn't have the easy-open snaps to strap around stroller handles, brushed gold hardware or the lock and key embellishments (which I would love!) like it's Tangerine sister bag online.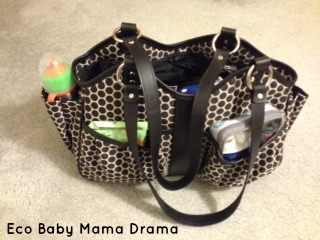 Nicely sized (10″ h x 6.5″ w x 17″ l) to fit what you might want to bring along with you whether a quick trip to the store or an all day outing, the Caryn has a spot to hold everything in place.  For me organization is key so I love all the pockets and secret areas to store everything! A super cool feature of this bag is that it has a zip in/zip out lining that can easily be removed from the bag if you decide you don't need to be super organized (say you want to pack it full of clothes for a trip with baby?).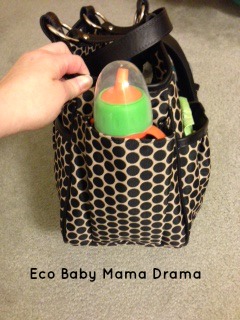 I never have to worry about packing the diaper bag, I know my Caryn is always ready to go and everything has it's place and I look like a with it mama too.  With a private inside as well as exterior zipper area I can keep my personal items secure and separate from the baby and kids things and my cell phone is easily accessible with it's own pocket too.  I was a bit disappointed in the exterior zipper being a bit stingy and not working most of the time, when it finally did seem to start to work it would zip but the teeth wouldn't actually grab making it close 🙁 There are two easy access bottle/sippy cup pockets on the outside AND on the inside area of the zip in organizer, with all those drinks you are sure to change a few diapers right?  You can reach for your included luxurious machine washable faux fur changing pad and change baby anywhere!  If you are anything like me your bag becomes a catch all so the roomy double pockets on the interior and exterior make for great little areas to devote to each child or even your husband lol! This is really a family bag 😉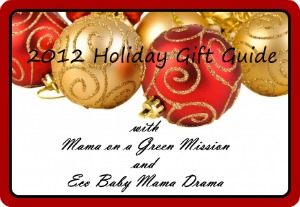 You can purchase the Caryn which retails for $480 as well as the other styles of Mia Bossi bags online directly from their website.  Which style and color bag is your favorite?
Disclosure: I was provided with the above mentioned product free of charge in exchange for an honest review. All opinions are 100% my own and are not influenced in any way.