As a mother, I'm always searching for that "one" bag.  The one that fits me as a mother and a woman…  A bag that can double as a purse and a diaper bag, or even a change of clothes, if your children are out of diapers.  Oh, and you can fit some snacks in there…that's pretty important, right? I have found a great bag that has me covered! The Laminated Buckle Bag from Kalencom, it's a great diaper bag for any mom!

This bag has a great magnetic closure, which makes getting ready a "snap" literally! The colors are amazing, and go with just about everything, and there are three large pockets inside, which is a huge plus (I might be an organization freak with my bag!).  It also comes with a great stroller attachment (already attached to the bag!!!) for super easy out and about use.  There are some included coordinating accessories; thinsulate brand bottle bag (fits sippy cups too!) and zippered pouch as well as an aqua changing mat.  Pretty good deal, I think!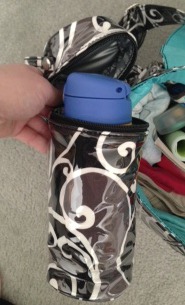 We can talk all day about the messes your toddler makes, but with this amazing bag, who cares?  You can wipe it down with a wipe, a cloth, or whatever is nearby, and it's clean!  It's always great to know that if your child spits up, throws up, or whatever other messes their imaginations can come up with, are easily cleaned up, even your bag (including any messes YOU make, I can be clumsy!). All the included accessories and bag are wipe-able!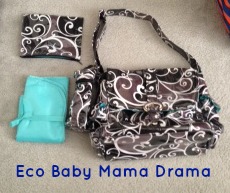 How about it's ability to be green?  It's AZO, BPA, and Phthalate free!  Which means, no icky chemicals coming in contact with your skin, or your child's and that's pretty important.  It's good to know that there are companies watching out for this sort of thing. 😉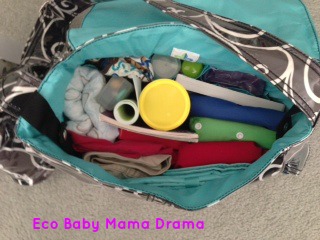 I love the long strap that this bag has.  You can wear it across your body, or over the shoulder, and there's enough room for Tate's cloth diapers, which is great for me.  It really holds quite a bit (measurements are 14″L x 6″W x 11″H)!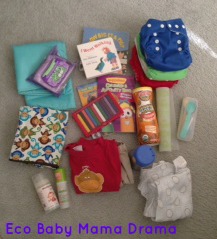 If you're looking for a bag to tote your makeup and your diapers, then I think I've found one just for you!
Buy it: You can purchase this stylish mama diaper bag directly from the Kalencom website, make sure you check out all their products to help make parenting easier! Which is your favorite Kalencom bag?