Teething is an important milestone in the life of your child! Usually occurring between the ages of 6 and 24 months, teething is the process by which baby's teeth break through the gums, which, as it sounds, can be quite the painful experience for your child.  Luckily Earth's Best has some help for parents with symptoms to keep an eye out for as well as all natural remedies!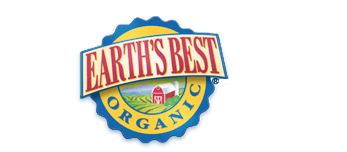 How do you know your baby is teething? Since sometimes it's hard for your little one to communicate exactly how they are feeling, look for some of the symptoms listed below:
Red swollen gums or visible bumps on the gums
Pulling of the ears
Irritable or clingy behavior
Coughing due to excessive saliva build-up
Decreased appetite
Once you know your baby is in the teething process, there are several solutions you can turn to in order to ease their pain:
Offer a hard snack: giving your baby a hard snack to gnaw on can be very soothing for their growing teeth. Earth's Best Organic® Toddler Biscuits are made from organic wheat and organic barley. Perfectly sized for little hands to hold, they are a good source of calcium and have an appealing texture for baby's changing mouth. Firm rubber teething rings are also good choices.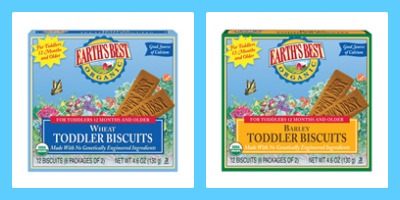 Make sure to dry excessive drool: drooling during teething can lead to rashes around the mouth and neck. Use bibs, change your baby's shirt often and dry drool as often as possible to prevent skin irritation.
Rub your baby's gums: rubbing a cool washcloth on your child's gums can provide relief. Another great tool is teething gel. Earth's Best Organic Teething Gel is an all-natural, non-medicated and non-habit forming formula that safely comforts your baby day and night during teething. Made with only natural calming ingredients such as peppermint oil, licorice, fennel, vanilla and chamomile it does not contain benzocaine or clove oil which can cause allergic reactions or choking in infants, nor does it contain sugar or lactose.
Knowing that this is a new and strange process for many parents, Earth's Best includes some frequently asked questions regarding teething on their website for you to take reference anytime!
Giveaway: One lucky reader is going to win some Earth's Best Organic® Toddler Biscuits to help soother their little ones gums!
Loading Entry-Form…
…

FTC Disclosure: I am an Earth's Best ambassador and receive products from them, however, my opinion is 100% my own and not influenced in any way. I was not compensated in any other way for this post.