Whether you are a seasoned cloth diaper using mama or a newbie you need to have a cloth diaper safe rash cream on hand for whenever your little one might need.  When Terri the creator of Monkey Baby Naturals contacted me to offer the opportunity to try out her Baby Goo cloth diaper safe rash cream I immediately checked out her website to see what was in her 'Goo' and was pleasantly surprised to see a full listing which included all natural and certified organic ingredients.  There is also helpful information on the herbs and possible allergy interactions that could occur showing she has her clients health as her main concern.

Terri sent me a full sized 3.2 ounce unscented Organic Natural Herbal Diaper Cream Salve as well as a mini version perfectly sized for my diaper bag, actually it fits inside my Diapers & Wipes Pod fabulously and I NEED to buy more because I am loving it so much!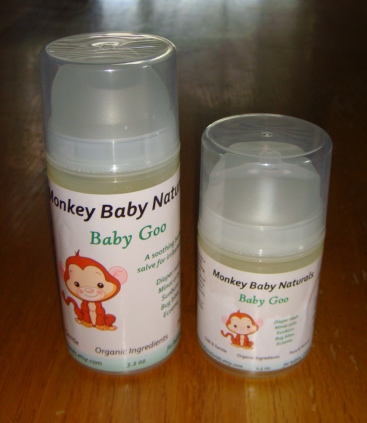 The day I got the Goo I started using it, Tates just happen to have a rash so I popped the top off and pumped it on…..only I missed his tushy rash.  I *assumed* the Goo would be thick and need smearing but it doesn't, it has a handy pump dispenser and is very creamy and wherever you aim your pump it will GO!  No need to get your hands/fingers messy and even better no Goo is wasted!  Check out the pictures (courtesy of MBN) of the consistency below, you didn't think I was gonna waste a squirt on a picture did you?!

Now you want to know does it work right?  YES, it works fabulously and often in only 1-2 applications in our experiences.  Guess what else?  There are other uses for it too…..you can slather some on dry or sensitive areas to provide deep moisturizing relief for the entire family making this a must have salve in my opinion.
Now my only dilemma is which new scent do I try first!  I am excited to announce Monkey Baby Naturals now has not only Unscented but Cocoa Butter, Lavender & Tea Tree, as well as Mandarin scented Baby Goo!  Since I am a fruity scent lover I am leaning towards the Mandarin, which scent do you think will be your favorite?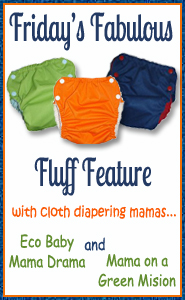 Monkey Baby Naturals is this weeks Friday's Fabulous Fluff Feature with Baby Goo being my must have cloth accessory!  Make sure you head on over to see what April from Mama on a Green Mission has to say about Baby Goo too!
Purchase: You can purchase your own Monkey Baby Naturals Baby Goo directly from Terri's Etsy shop and now for 10% off with code BABYGOO10!
Win it: You can enter below to win your very Baby Goo in your choice of scent!  Good Luck!
Loading Entry-Form…
…