If you are a frequent reader of mine you know I am a cloth diapering babywearing mama and talk about it quite often.  I co-hosted the 2012 Great Cloth Diaper Change with some local natural parenting shop owners and instantly made some new friends and discovered there are some great resources close to me that I hadn't known about before.  One of those shop owners is Jennifer and her store is called Treetop Baby.

Started back in 2008 the family owned/operated store caters to each client individually and offers personalized customer service.  Have a question about a specific product or just about cloth diapering or babywearing in general?  Jennifer is more than happy to help!  Being a cloth diaper user as well as an experienced babywearing mama Jennifer can troubleshoot with you or help you choose the right carrier for your families needs.

New inventory is being added constantly making this online store a place I check frequently and with it being pretty close to me I am loving the idea of being able to drop by and feel the fluff as well as try on the various carriers!

So know that you know a bit about Treetop Baby and are surely anxious to get shopping I am super excited to share some good news and great news!  The good news is Jennifer is offering FREE SHIPPING within the USA from now through the end of November!  What an awesome way to save you some money before the upcoming holiday rush!  And the great news?  Jennifer is kicking this holiday season off with a BANG!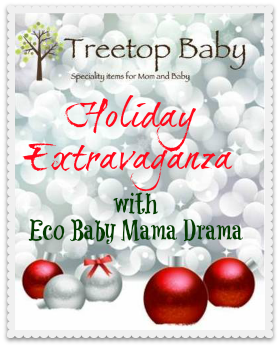 Over the next month Treetop Baby and Eco Baby Mama Drama are teaming up to bring you 8 wonderful giveaways to celebrate the upcoming holiday season!  A new giveaway will be announced every 4 days so make sure you check back to see what you can win!
So what is up for grabs first?  A half dozen Osocozy unbleached infant prefolds with a 2 pack of snappi fasteners (size 1).  A great prize or gift for the prefold lover or prefolds make great pocket stuffers too! ~WINNER-Jessica Eaton Ledford
All giveaways are open to US and Canadian residents and all entries will be verified.  Treetop Baby will ship prizes directly to winners and yes you may win more than one giveaway so make sure you keep entering!