I have wanted to try the newest cloth diaper from Tots Bots since it came out and when Thanks Mama agreed to send me one for review I was stoked!  This really is a different cloth diaper, it is a pocket diaper and an all in one at the same time….confused yet?  Let me explain!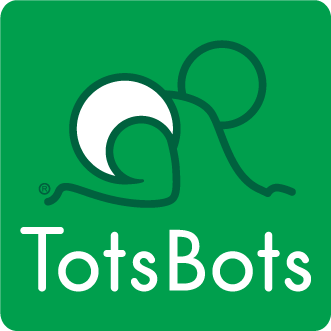 I will start off with the easy parts, the diaper is one sized, adjustable with a snap down rise and is available in both snap as well as hook and loop closure. We received the snap closure orange color diaper for review and boy is the orange vibrant!  The diaper doesn't have crossover snaps however the hook and loop option does offer crossover for fitting a smaller baby. The interior of the new versions offer color coordinated fun that I haven't seem before in cloth diapers.  Want to keep the cute colors looking their best? Simply use the included fleece liner for quick cleanup and a nice stay dry against babies skin too.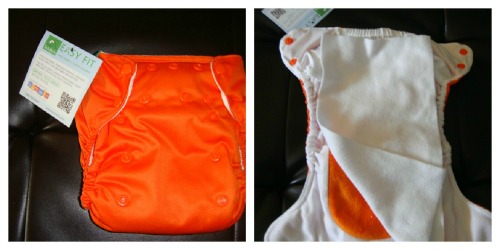 The fold out liner is made out of 3 layers of super silky soft and absorbent minky that can be folded for extra coverage in the wet zone.  The liner/insert is attached making the diaper an AIO (all in one) however there is a large pocket opening in the back for stuffing either the liner/insert as well as extra inserts if you need making it a pocket too.  No need to unstuff the pocket before washing, it will agitate out on its own!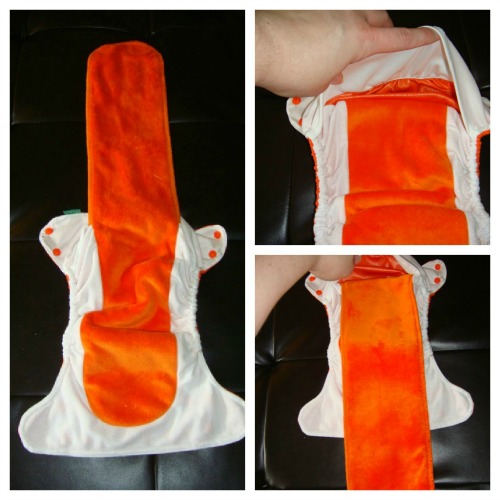 The diaper seems to be a bit smaller on Tates than some other one sized diapers but I do like how trim and soft it is.  The minky inner is really some of the softest material I have ever felt and the outer PUL is very cushy as well, the softest I have ever felt actually.  It really doesn't feel like it is waterproof because it is so soft lol!
The vibrant coloring I mentioned before made me a bit nervous about the possibility of color bleeding so I followed the specific directions about separately washing the first few times.  The diaper really does absorb quite a bit, Tates is a heavy wetter and after only a few prep washes the diaper was good to go like a trusted older stash member 🙂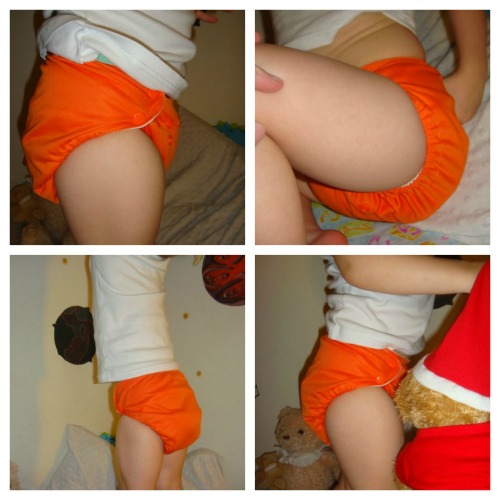 With an extra wide back elastic area and stretchy waist the diaper fits well and Tates is very comfortable in it, I honestly had a difficult time getting pictures because he was jumping around so much!  There was some slight marking on Tates chunky thighs however they were not deep and did not seem to irritate him.

A family owned and operated natural baby store, Thanks Mama offers a wide selection of cloth diapering products, potty training pants, and swim diapers with a goal of bringing the best selection to each customer.  They also stock baby carriers, bibs, toys, nursery furniture and bedding, strollers and much more.  They carry innovative products that are good for baby and the environment keeping in mind most families are on a budget. Thanks Mama offers the low prices, free shipping on orders over $60 within the USA, 90 day easy returns; a Buy Safe Guarantee as well as a Price Guarantee. Thanks Mama ships worldwide too!

They have many cloth diaper packages that have volume discounts built in, many come with complementary products and make shopping for cloth diapers in bulk easy. Cloth diapers for parents that are new to cloth are also available; they are great for trying different types and brands of cloth diapers. Thanks Mama has knowledgeable customer service that would be happy to help with any questions or concerns.
If you want to be up to date on everything cloth diapers, know about current promotions, want to read and participate in discussions about natural parenting, modern family fun and challenges, green living; not to mention participate in weekly Giveaways, Sweepstakes, Twitter Parties and Contests, follow Thanks Mama on Facebook, Twitter, their blog, Pinterest or Google +.  You can always check their website too for the latest promotions!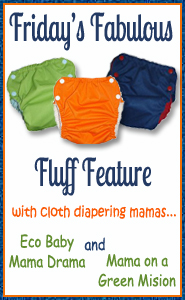 Thanks Mama is this weeks Friday's Fabulous Fluff Feature!  Please make sure you drop by and see what Thanks Mama sent April from Mama on a Green Mission and what her thoughts were on it!  I think you will be excited if you do!
Thanks Mama is generously giving away a Tots Bots Easy Fit one size cloth diaper to one lucky Eco Baby Mama Drama reader!  Someone is going to get fluffy mail, woohoo!  Enter below and good luck!
Loading Entry-Form…
…