My birthday is coming. I LOVE my birthday! I LOVE celebrating! But I am starting to realize that getting old is hard to do! I'm not THAT old. But I am starting to see fine lines appear. I try to take care of my skin so that I don't get sun damage and I don't get wrinkly when I'm older.
There is a great new product line out called the On-In Beauty System. The On-In™ Beauty System, helps bring your beautiful skin back to a youthful glow with a nutrient rich On-the-skin topical cream and a naturally-sourced In-your-skin dietary supplement. The cream and supplement work together to dramatically improve tone and texture.
Both the On-In™ Beauty cream and supplement contain Lutein a natural antioxidant sourced from marigolds. "Lutein achieves fast absorption into skin cells to deliver demonstrable improvements in hydration, elasticity and UV protection."
The beautifully packaged 1.75 ounce face cream and the 30 tablet pill bottle come as a set. I like that they put the marigold on the box, I didn't know that those pretty little flowers had the power to make skin look healthy again!
Here's a couple BEFORE pictures of my face: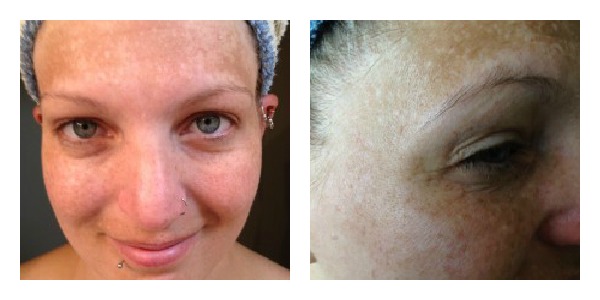 Do you see those small wrinkles and fine lines there around my eye and cheek? And the ones up on my forehead? I know they are small, for now, but they'll only grow.
I used the cream and took the pills every day for 2 weeks. You are supposed to put the cream on your face as your face lotion twice a day, morning and night. I really like the cream! It has a scent, but it's a soft, nice scent. I have used face lotions before that have a perfume smell that is so strong. And with it right there on your face, that is not a good thing! I really like the scent of this cream, and I like that it's not too strong at all. It's a nice creamy cream too! My skin is more on the oily side. I hate to put creams and lotions on that are just oil based and slide right on. Not only will they slide right off, but they will make my face get oily that much faster. This cream is a nice, light, but thicker cream. You can easily rub it in and it feels like it gets absorbed completely. I don't feel an oily film on my skin at all!
The pills are small and easy to take. You are supposed to take 1 pill a day, in the morning.
I was a little skeptical of this product really working in just 2 weeks. That's what it claims, 'you can see a change in as little as 2 weeks'. I wasn't too sure of that. However, after just 2 weeks of using the On-In Beauty System here's how my skin looked: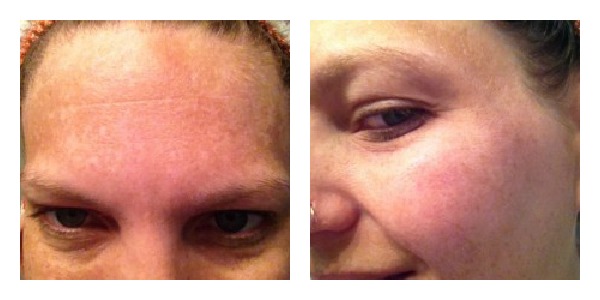 Slightly less deep wrinkles there on my forehead. Far less wrinkles and fine lines around my eyes! It works! In just 2 weeks I DO see a difference.
It has been more than 2 weeks now, and I am still using the cream and taking the pills in the mornings with my vitamins. I like this product and I would like to continue using it.
If you are looking for a great way to naturally reduce wrinkles and fine lines on your face, I'd recommend giving the On-In Beauty System a try. It really did work in just 2 weeks. And it's got the all natural ingredients, so you don't have to pump your face full of fillers!
Purchase: You can buy the On-In Beauty System from Amazon

.
Win some: Three (3) lucky readers are going to win a set just like the one reviewed!  Enter below, good luck!
Loading Entry-Form…
…
Courtney joined the Eco Baby Mama Drama reviewers team in August of 2012 and is enjoying the latest addition to her family, her baby boy! A stay at home mama to 2 beautiful children now enjoying the good life in Colorado and blogging about it at Joy of Momma Joyner. Make sure you check her out if you already haven't!