I am a lover of products that multi-task for many reasons especially when it comes to baby gear.  There is always so much to buy with a baby so when I can combine a few things into one for baby I am all about it!  Joovy just came out with a cool new baby item called the Spoon that takes baby gear to a whole new level.

The Spoon is a walker AND a high chair in one, two must have baby items combined to make your life a little easier and your little one happy too.  The modern look of the spoon will surely fit it with any theme you have and the brilliant design offers functionality as well as safety for baby and toddler.

Your little one will be one the go in no time flat with the super fast set up, all you have to do it attach the wheels and snap in the washable (MACHINE WASHABLE!) seat and your little one will be trying to climb in their new ride just like Tates was.  He loves having his own little space!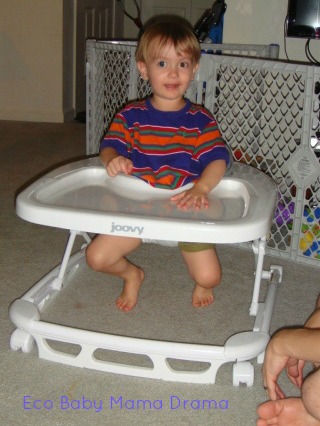 Available in 4 great colors (Charcoal, Purpleness, Blueberry and Greenie) the Spoon is easy to clean top to bottom with the over-sized tray that has a removable insert for quick wipe down cleaning or put in the dishwasher for convenience.  The absence of a million toys (unlike most over stimulating walkers) allows for baby to have a large play area and plenty of room to focus on a few toys of your choosing.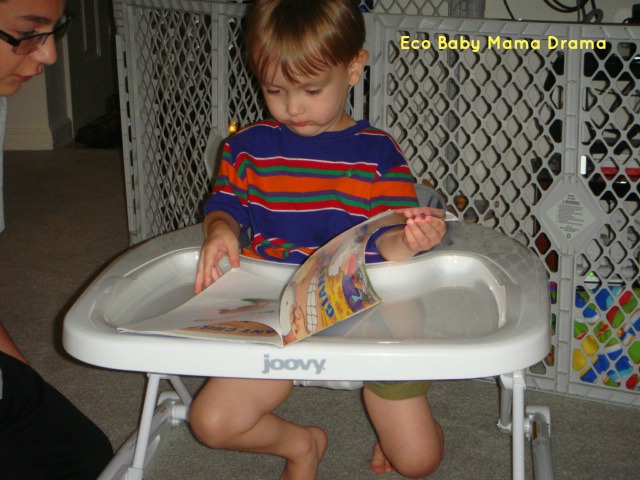 Folding flat for easy travel and storage (great for this apartment family!) the Spoon also offers three easily adjustable height positions for your growing baby to accommodate up to 30 lbs and/or 33.5 inches tall.  Babies feet should always be able to touch the ground flat when in a walker.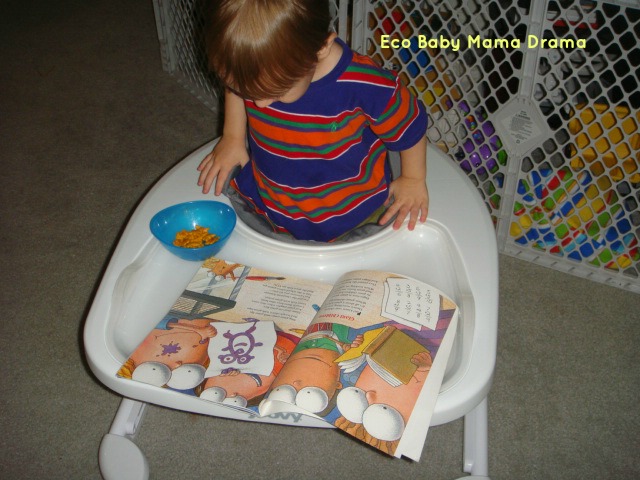 Constructed with your child's safety in mind, large wheels and an extra wide base ensure little fingers don't get smashed in between the tray and a doorway minimizing boo boo's.  Non-slip stair pads, a soft and padded high seat back, and being completely free of BPA, PVC and Phthalates this walker is a safe haven for baby to scoot around, eat some snacks and have a special little place to call their own.
Purchase: You can purchase your own Joovy Spoon for $99.99, remember that is the low price of a walker and high chair in one!