Any mom of a newborn will tell you that being up every couple hours to feed, change and burp your new little bundle of joy can make one tired mama.  Thanks to the wonderful products Kolcraft offers your family is covered from bassinets to potty seats with everything in between without breaking your bank and helping to make motherhood easier.

We were sent the Cuddle'n Care 2-in-1 Bassinet & Incline Sleeper for review and I immediately knew this would be the perfect addition to any home with a new baby.  There are so many wonderful features making sure your little one is comfortable so everyone gets some well needed rest.  I didn't have a bassinet with T-Bone or Tates so I am definitely excited to put this to good use with the next little one.
I immediately adore the gender neutral Emerson pattern when we open it up and start putting it together.  Since we don't ever plan on finding out the gender of our babies until delivery this is perfect for us.
The most exciting part about this bassinet though is the unique incline feature that is only available on the Kolcraft Cuddle'n Care 2-in-1 Bassinet offering the option for babies to sleep inclined.  This is the perfect solution for babies with reflux, colic or even a baby with a cold. Baby is secure with the included soft padded harness ensuring their inclined position and when baby no longer needs the incline option it is easily removed and can be used as a traditional bassinet.
The canopy is easily raised and lowered with one hand which is perfect because what mom ever has more than one free hand?  Air easily circulates with the mesh siding of the incline option so mom and dad sleep easy.
The included mattress and sheet make for a comfortable and coordinating bed for baby and an all in one easily changable sleeping haven for next to parents bed. Want to have baby wherever you are, no problem with the locking casters (wheels) making for easy transport from room to room.  You can also remove the wheels and make it a rocking bassinet for the little ones that like movement.
A super roomy under storage basket underneath where baby sleeps is perfect for all your quick grab items; diapers, rash creams, swaddle blankets, extra clothing or baby lotions.  Whatever you think you might want to have at arms reach will fit underneath!
There is also a few baby entertainment features that add a special touch to this Must Have baby item.  The mobile with three soft coordinating stars attaches to the canopy and the included Light Vibes® electronic unit which offers classical music, nature sounds and vibrations so lulling baby to sleep is easy.  It also has a soft-glow check light in case you want to peek at your sleeping angel without disturbing them.
Buy It:  You can purchase your own Kolcraft Cuddle 'N Care 2-in-1 Bassinet and Incline Sleeper

 from Amazon and receive free shipping to your door!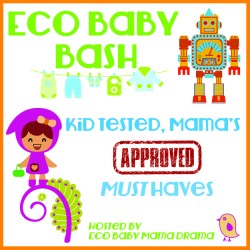 Kolcraft is generously sponsoring our Eco Baby Bash event and offering one lucky reader their very own Cuddle'n Care 2-in-1 Bassinet & Incline Sleeper, thanks so much to the wonderful folks at Kolcraft!
Loading Entry-Form…
…