Welcome to the GRAND PRIZE PACKAGE giveaway for the Flufftastic Summer Celebration! This grand prize package is perfect for any fluff addict, new or veteran! The package is valued at over $400!!  Please make sure you stop by each participating blog to enter to win their fabulous fluff giveaways after entering here, the more entries you complete the better your chances of winning!  Good Luck!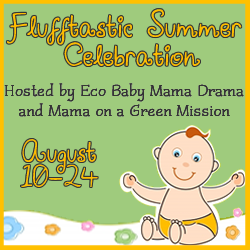 One lucky person will receive: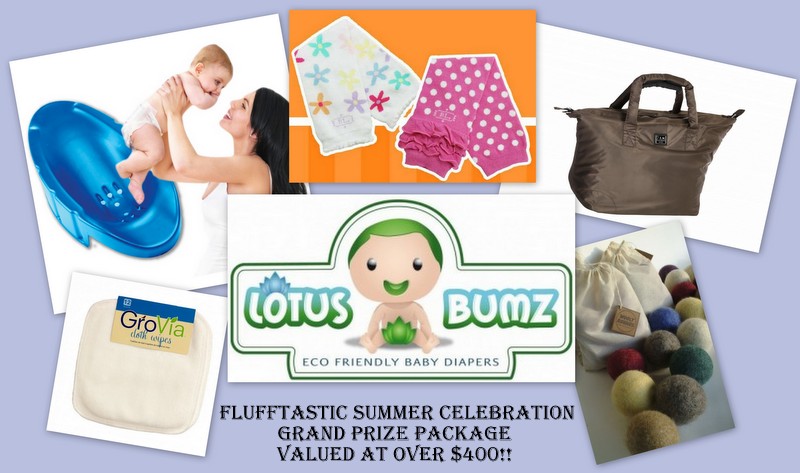 12 Lotus Bumz cloth diapers with microfiber inserts
Wet/Dry Bag from Lotus Bumz
A Rinse Hopper
A 7 A.M. Enfant diaper bag
Grab bag of Baby Legs
12 pack of GroVia cloth wipes
3 Wooly Rounds dryer balls
That is over $400 of fluffy goodness!!! How exciting is that???? We are thrilled to be bringing you this chance to win such a great package!
REVIEWS:
Be sure to check out my review as well as April's review of our Lotus Bums cloth diapers and wet bags!
Our reviews of the Rinse Hopper and BabyLegs will also go live during this event - keep an eye out for them!
Bri recently reviewed the 7A.M. Enfant Diaper Bag and I have reviewed Wooly Rounds!
Check out all of the reviews to get more info on these fabulous products!
Fill out the Giveaway Tools form below for your chance to win this amazing package!!