Being a cloth diapering mama means I need a way to store my dirty diapers while out and about away from home but I still want to be eco-conscious so having a wet bag is a must.  Having a wet bag with an extra pocket for clean diapers is just a nice bonus that the Lotus Bumz wet bag provides.  I have shared before how much I love the Lotus Bumz regular pocket diapers as well as the minky pocket diapers and I am now loving their wet bags too!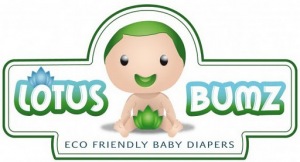 With a heavy wetter baby boy toddler I always make sure I have plenty of diapers in the diaper bag and we have to change often which means we can't just have any old wet bag, we need a bag that can hold lots of diapers and on a personal level I want a stylish bag.  With several cute prints and bold solids to satisfy any mama's tastes it was definitely hard for me to choose which one to try out.  I finally decided on the Blue Swirls print and when it arrived I was more than happy with my choice!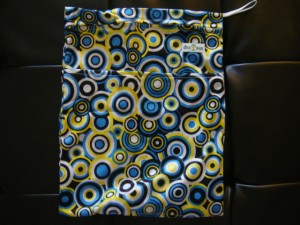 The bold colors are definitely fun and attention grabbing, a great distraction during diaper changes too!  Having your little one name and point out the colors is a great exercise, or event having them help you to zip the bag closed allows them to be a big helper!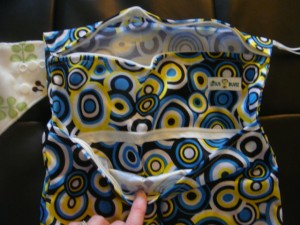 With the generous sizing (12'x14.5′) you can really fit quite a few diapers inside, both clean on the outside pocket and dirty on the inside larger pocket.  I really love the stretchy loop that can be used to hang the bag if you choose or as a carry handle if you want to bring the bag only without your diaper bag maybe.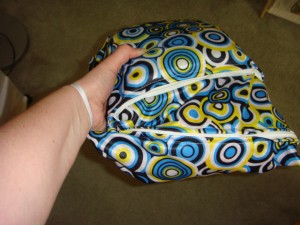 With 2 dirty pocket diapers and 3 clean the bag still has plenty of room making it easily usable as an all day bag.  Now the only question is, which color or print do you choose to buy first?  Make sure you head on over to see what April from Mama on a Green Mission thinks of her Lotus Bumz wet bag!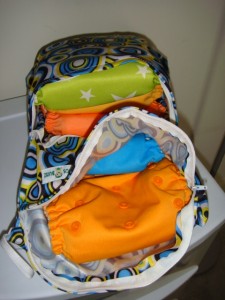 Purchase: You can purchase your own stylish and functional wet dry bag to keep in your diaper bag from the Lotus Bumz online store.
Win!  One lucky reader is going to win a wet dry bag from Lotus Bumz in the Flufftastic Summer Celebration Grand Prize Giveaway Event!  Hurry on over and enter to win now!